Tug preservation volunteers at Maasluis in the Netherlands recently took delivery of two more vessels for their collection, a former Europoort tug and a smaller tug and salvage vessel built by nearby De Haas shipyard.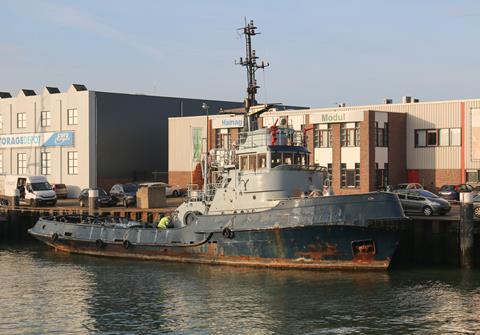 Steenbank along with its sister Schouwenbank were the first dedicated tanker-handling tugs at Rotterdam. Steenbank later became Astroloog for Smit International Harbour Towage after which it served the Belgium Navy as A950 Valke and has now been saved from the breakers torch by the Maasluis Tugboat Port Foundation. The second addition is Eerland 28, built in 1958 as Tonijn for Taks Berging and fitted-out for salvage operations with extra pumping capacity. We hope to follow progress with these two projects and wish the restorers well, recognising their efforts at preserving these important parts of the Netherlands maritime history.
Tschudi Group has announced the establishment of Tschudi Mozambique Lda and an entry into the south-east African offshore market. While not purely towage related Tschudi Offshore & Towage has in effect doubled its fleet with its involvement with the Damen PSV 3300 PSVs World Emerald and World Sapphire.
A partnership has been established with Mozambican company EnergyWorks and with Tschudi's track record operating anchor-handling tugs offshore Angola the new combination of towing and supply services puts Tschudi in a strong position to exploit the expanding oil and gas activities in the region. Tschudi also operate the 133tbp AHTS vessels ITC Cyclone and ITC Chinook.
Royal Boskalis Westminster N.V has announced its successful completion of the sale of its stake in Smit Amandla Marine (SAM). Smit Amandla Marine was formed in 2005 and the possible sale of the South African-based marine services provider was announced in March 2016. The stake has now been sold to management and local investors, thereby returning the business to 100% South African ownership.
Boskalis received a cash sum of approximately €50m for the sale with the activities and results of SAM deconsolidated with effect from 1 December 2016. Following the sale, Boskalis will continue to be permanently represented in the region through the activities of Smit Salvage.
René Berkvens, CEO of Damen Shipyards Group has received the KIVI Honorary Medal for Marine Technology. KIVI is the professional association of engineers in the Netherlands.
Mr Berkvens received the award at Delft Technical University during the symposium 'Maritime Manufacturing – Is there room for innovation in the boardroom?' and both jury and speakers praised his long-standing role as an initiator and promoter of many commercial, organisational and strategic Damen successes as well as his contribution to the Dutch maritime industry with the jury commenting: '… the yard [Damen] does not simply offer a product, but a service that the customer uses for years to come.'
By Peter Barker