Following a period of refit at Hardinxveld in the Netherlands, the tug/utility vessel ''Neptun 11'' is about to head to the Far East for owners Landfall Marine Contractors BV.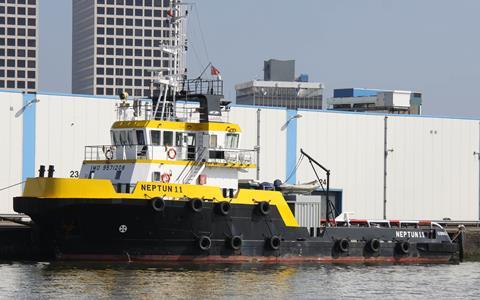 The tug is reported as being 'available' for any part of the passage via Suez and is due to return to the Netherlands via the Cape of Good Hope double-towing two new build 82m barges also for Landfall Marine. The BV-classed, 36m tug was built in China in 2011 and has a bollard pull of 42 tons and is fitted with a 50t pull, 100t brake load double-drum towing winch. Free running speed is 12 knots and Neptun 11 has a sailing range without tow of 11,000 miles.
Svitzer has announced three new appointments aimed at strengthening its position in what it describes as 'difficult markets'.
Dutch-born Marc Niederer has held global positions with Maersk and Svitzer, formerly as managing director with Svitzer Europe. He has now been appointed MD of Svitzer Americas. Kasper Frijs Nilaus similarly has held various roles in the organisation including chief commercial officer and head of business development and has taken up the position of MD at Svitzer Europe. Finally Steffan Risager has been appointed group vice-president alongside his role as MD of Svitzer Australia.
Two anchor-handling tug supply vessels under tow to ship recyclers in Turkey have sunk off the French coast. The two vessels, Maersk Shipper and Maersk Searcher were being towed by another AHTS the Maersk Battler when they sank.
The convoy had left Frederica in Denmark bound for Turkey and little information about the circumstances is available. Both vessels were unmanned and Maersk Supply COO was reported as saying that they had been emptied of lubricant oil and diesel oil. The French Coast Guard were informed and reconnaissance overflights carried out of the area following which it was reported that the owners have been asked by the French coast guard to report on their plans for the sunken vessels.
Finally, further news of personnel changes comes from the offices of Rotterdam-based Kotug. The supervisory board have announced that Osman Munir has been appointed to the position of chief commercial officer with effect from 1 January.
Mr Munir has worked at Kotug for nearly ten years building what it describes as an 'impressive resume' He started as group controller, later as manager project department. He then rose through the ranks to become director business development, terminals and JVC (joint venture companies) of the group. Kotug recently formed a JV partnership with Boskalis covering the two companies European harbour towage operations and Mr Munir will continue to take a global perspective on strategy, market opportunities and lead in the assessment and prioritisation of geographical as well as market segments.
By Peter Barker