A workboat from Jenkins Marine has been chartered for diving support at Selsey Bill on the UK south coast working for the Royal National Lifeboat Institution to remove seabed obstructions near the local lifeboat station.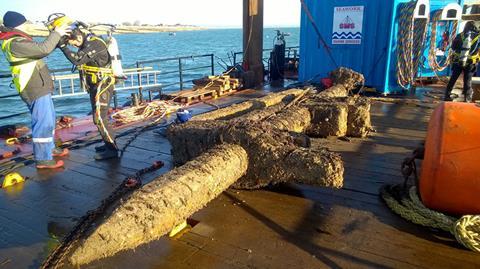 The Stour (pictured) was chartered to commercial diving contractor Seawork Marine Services and work involved removing debris from the former Selsey Pier which was demolished some years ago. The Stour was selected for its large deck area able to accommodate the dive container and equipment as well as recovered debris.
Transnet National Ports Authority has taken delivery of the fifth of a series of nine tugs in its major tug replacement programme.
Ukhozi was built by Southern African Shipyards Durban facility where five tugs are under construction at the same time and the programme reported as being on schedule, within budget and now 81% complete. This latest vessel is the first of two intended for operation at Richards Bay with the first four in the series based at Port Elizabeth and Saldanha. Ukhozi has a length of 31m with Voith Schneider propulsion units providing a bollard pull of 70 tonnes.
Johannes Østensjø, founder and long-time CEO of Norwegian shipowner Østensjø Rederi has been awarded the prestigious Lifetime Achievement Award at the annual Offshore Support Journal gala dinner in London.
Østensjø are active in a range of markets including those related to the oil and gas industry but it also has a significant presence in the towage sector including through its UK subsidiary company Solent Towage at the Fawley oil refinery near Southampton.
The towage sector comes to mind when considering the award's criteria of the Norwegian company's commitment to constantly being at the forefront of innovation in the industry. A notable example of this innovation is the current programme that is seeing three LNG-fuelled escort tugs being built in Spain for operation in Norway.
KT Marine Services Australia Pty Ltd recently reported the traditional steel-cutting ceremony of its latest vessel, an ART 100-46 Rotortug for offshore operation in the Australasian region.
KT Marine is a joint venture company established by Kotug International BV and Teekay Shipping Australia Pty Ltd and this latest addition to its fleet is of interest in that it is larger than the three ART 100-42 infield support vessels for Shell's Prelude floating LNG facility off northwest Australia (see MJ January 2017).
The vessel is being constructed at Damen Shipyards Sharjah UAE and was commissioned following a contract to support offshore operations in the Timor Sea on behalf of Conoco Phillips. One of the Shell Prelude tugs is being deployed as 'front-runner' for Conoco Phillips until the new vessel takes over.
By Peter Barker