Netherlands-based Iskes Towage & Salvage has announced expansion of its port towage services in Germany and Portugal.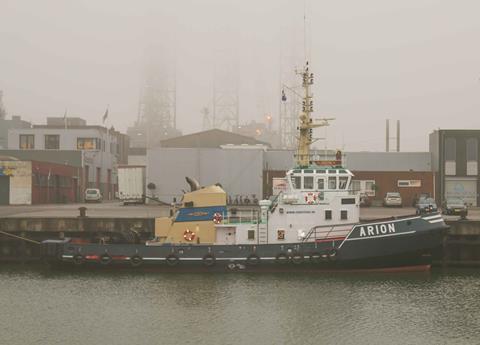 Following negotiations with clients, pilotage and local authorities, the 45tbp Arion is now operationally assisting mainly roro vessels at Lübeck and Travemünde. Meanwhile Iskes has announced it has established a joint venture arrangement with Setúbal Portugal-based towage company Rebonave to operate port towage services in Lisbon under the name Port Towage Lisbon (PTL).
Rebonave operate a mixed fleet of around 10 coastal and offshore vessels employing conventional, tractor and ASD propulsion. Iskes' fleet totals around sixteen vessels dominated by ASD tugs including the 2014-built hybrid ASD Bernardus.
Another European tug company announcing overseas expansion is Boluda Corporación Marítima which is now operating in the Mexican port of Manzanillo.
Boluda now has a presence in nine ports in Mexico via its subsidiaries Compañia Marítima del Pacifico and Compañia Marítima Mexícana. Late in 2016 Boluda and its Mexican subsidiary were awarded an 18 year contract at Manzanillo, the same year it was awarded a similar contract for operations at Altamira on the Atlantic coast. Boluda added the tugs CMM Jarocho, CMM Maguey and CMM Tabasco to the Manzanillo-based fleet. Boluda now has a total of 28 tugs operating on both the Atlantic and Pacific coasts of Mexico.
Shetland Islands Council has bareboat chartered the Dutch tug Multratug 29 from Multraship as part of the council's fleet renewal project.
The 70tbp Multratug 29 is a Damen 3212 ASD tug built at Damen's Vietnam facility in 2015 and will replace the 33-year old Tirrick which is reported locally to have been sold to Greek interests. Tirrick is one of a pair (the other Shalder) built by Ferguson Ailsa, Port Glasgow and at the time of writing both appeared to be operating in home waters.
The bareboat charter arrangement allows Multratug 29 to be crewed by Shetland Island Council staff and part of their training and familiarisation programme included participation in simulator and practical training courses in the Netherlands.
Finally, continuing the theme of European cooperation with overseas towage contractors, Kotug International BV and Seabulk Towing Inc have been awarded a contract with Borco Towing Co Ltd (a subsidiary of Buckeye Partners LP) to carry out all towage operations at its Buckeye Bahamas Hub in the Bahamas.
The Buckeye Bahamas Hub currently has over 26m barrels of oil storage capacity supplied via eight berths, two of which are VLCC-sized. It is claimed to be the largest petroleum products terminal in the Western Hemisphere.
Kotug Seabulk Maritime LLC is deploying four new tugs: RT Blackbeard, RT Raptor, SD Calypso and SD Junkanoo along with a bunker barge to carry out terminal towage operations including bunker barge assistance at the port.
By Peter Barker