Kotug and Rotortug have worked together towing a historic steam elevator between maritime museums in the Netherlands and Flanders.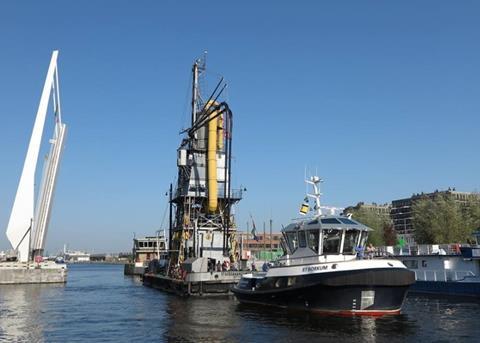 Two tugs of note, Rotortug's training tug RT Borkum and Kotug's historic Adriaan voluntarily towed the 1927-built elevator Graanzuiger 19 from the Maritime Museum Rotterdam, where it had been exhibited for some years, to the new Maritime Museum Antwerp from where it originally came.
Rotortug and Kotug state they were proud to take part in this unique harbour legacy project which will see the two museums taking equal turns in providing a home for the elevator identified as having historical significance being the last remaining steam elevator of a fleet of 24.
Following news, reported earlier in this column of the planned joining of forces between German towing giants Fairplay Towage and Bugsier Reederei, the former has announced completion of the takeover process of Hamburg-based Bugsier.
In the Tugs & Towing review to mark MJ's 30th anniversary in August mention was made of consolidation and takeovers in the increasingly tough north European market and Fairplay state that as purely organic growth in this particular region is no longer possible growth can only be gained through acquisitions and takeovers. This is noted as being in line with shipping companies building alliances to cover port towage with one partner.
The takeover of Bugsier was, according to Fairplay accomplished 'under the leadership of Fairplay, yet at eye level with the new partner'. Fairplay will put the management board in place with the Bugsier brand continuing to be a player in the market.
US-based rope manufacturer Samson has announced an expanded presence in the European tug market particularly in Germany, the Netherlands and Belgium through Moerdijk, the Netherlands-based United Offshore Services (UOS).
Samson operates on a global basis and dates to the early 1940s. The mid-1980s marked the start of its selling of HMPE man-made rope products, now an increasingly popular alternative to steel wire rope, particularly in the offshore energy and towing markets.
UOS has increased its stock of Samson products including ropes and various chafe products, also offering local service and support with Edwin Jefferies, UOS commercial manager stating: 'we have supplied indirectly into the tug market over the last 24 years and its now time to take a direct approach.'
Finally, congratulations to Robert Allan, executive chairman of naval architects Robert Allan Ltd (RAL) on the award of Meritorious Achievement Award, one of the President's Awards conferred by Engineers & Geoscientists British Columbia.
RAL was founded by Mr Allan's grandfather in 1930 and the latest Rob Allan retired from full-time employment earlier this year. He will however be well-known around the world in his role as 'Ambassador at Large' representing this company whose many tugs and other craft are now at work globally.
By Peter Barker