Olympia is the capital of Washington State and when ''Parthia'', one of the port's longest working and oldest tugs sank in Hood Canal in August 2017 members of the South Sound Maritime Heritage Association swung into action.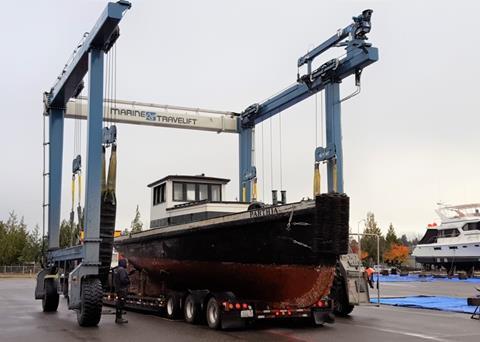 After hundreds of hours of planning and voluntary donated and contracted work the 1906-built tug is now back at the Port of Olympia's Swantown Boatworks. Following restoration, it is planned for it to become a shore-side maritime history exhibit and public attraction on the city's waterfront.
Parthia was a perennial participant and winner of several Olympia Harbour Days tugboat races and its new owner offered to donate it to anyone who would salvage it following its sinking. The subsequent operation involved extensive goodwill and contributions including towing of the refloated tug to a haul-out site and its move to the boatyard by road transport.
Landfall Marine Contractors bv has reported the safe completion of a nine-month, 27,000 miles round voyage for its tug Neptun 11 from Delfzijl to Shanghai via Italy and back to the Netherlands via Cape of Good Hope.
The outward voyage involved towing a flat-top barge to Italy then onwards via the Suez Canal to Shanghai. The journey back to Rotterdam via South Africa for the 36m long, 43tbp Neptun 11 with two new flat-top barges in tow required bunker stops at: Singapore, the Seychelles, Walvis Bay and Las Palmas and included negotiating the southern winter period where a reduction in speed was required for just two days.
Svitzer Towage has enhanced the service it provides to APM Terminals Poti operation bringing the number of its ASD tugs operating in the Black Sea port to three.
The implementing of Svitzer's standards with the operation marks the company's expansion into the Black Sea. The terminal is served by a fleet of three tugs, two ASDs from Svitzer's existing fleet in Europe, supplemented by a tug from APM Terminals Poti's current fleet. The new arrangement will see improved port access during bad weather conditions for Georgia's largest port which has a total berth length of 2,900m and more than 20 quay cranes.
Following a period of preparation and implementation, Van Wijngaarden Marine Services bv (VWMS) has finally received the ISM Interim Document of Compliance.
The survey was carried out by a Bureau Veritas surveyor, the entire ISM process entered into on a voluntary basis by Van Wijngaarden as all the workboats and tugs in its fleet are smaller than 500grt. The Safety Management System was set up and implemented within VWMS in cooperation with Rood Boven Groen a maritime consultant in the field of safety and security management and training based at Harlingen, the Netherlands. The company aims to receive the Company ISM Initial Document of Compliance in the first quarter of 2018.
By Peter Barker