UK marine electronics company Transas has teamed up with Theyr Ltd to incorporate weather and ocean data within the Transas Navi-Planner 4000.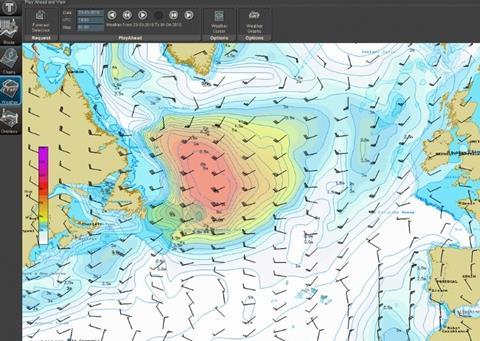 With the weather data from Theyr, the Transas Navi-Planner 4000 will provide end-users with important features like ON / OFF toggling of the weather overlay and its customization, Weather update (forecast) by request with indication of required region and weather parameters, Spot weather (weather under cursor), Weather graphs, Route Optimization and Voyage Planning extension by weather information.
Theyr Weather and Ocean data parameters include wind speed, barometric pressure, precipitation, air temperature, sea surface temperature, tropical storms and hurricanes, visibility, significant wave height, period, and direction.
High and low-resolution data outputs are available. Data is fully compressed for the efficient and cost-effective delivery over any network.
In the 1990s, Transas was one of the first companies to offer electronic chart systems - much earlier than this system became conventional and mandatory. In 1996 Transas marine navigation systems were installed in Sweden on 117 patrol ships (Combat Boat-90 project) and in 1997 Transas ECS was already used by the crew of the MIR space orbital station. In 1999 Transas became the first company in the world to receive the international ECDIS Type Approval Certificate.
By Jake Frith