The House of Commons Transport Committee has heard oral evidence from five witnesses following the 'Transocean Winner' stranding earlier in 2016 including examination of ETV provision in UK waters.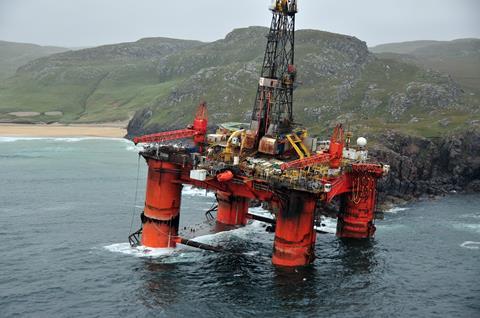 The eight-strong committee of MPs are examining circumstances surrounding the loss of towage connection with the rig Transocean Winner, subsequent stranding and salvage. The session can be viewed in full on the House of Commons website and key points are looked at briefly below.
It was borne in mind that an MAIB investigation was under way and the committee asked about the considerations of risk with the rig tow: Aqualis Offshore was marine warranty surveyor for the move and CE David Wells explained their work included ensuring risks fell within industry accepted envelopes along with suitability of the towing vessel.
The subject of wet tows against dry tows was explored and Dave Walls (operations director Transocean) explained different risk profiles were part of the considerations adding that preparatory work for a dry tow would have included removing thrusters with consequential risks to divers. It was stated the cost of a wet tow would be in the region of $600,000 compared to maybe $1.4m for a dry tow.
Leo Leusink, operations and fleet director ALP Maritime described the principles of bollard pull vs towing gear breaking load and the emergency towing arrangements. Route selection was also discussed, Mr Leusink having no problem with the choice and Sir Allan Massey (CE of the MCA) describing the storm force 10 and 10m seas conditions as 'phenomenal for that time of year'. In answer to a question Mr Walls stated they looked at prevention and mitigation, the availability of an ETV not being part of the consideration, Sir Alan Massey added that the Herakles (ETV) would probably not have made any difference given the capability of the tug that was already on scene.
The UK's ETV provision was discussed, Sir Allan Massey stating that statistics over the last five years vindicated their view that having a single ETV was sufficient while acknowledging the recent London Offshore Consultants study recommendation that the ETV should be moved around depending on weather and traffic density situations. Funding possibilities for a second ETV were also discussed.
Hugh Shaw (SOSREP) was also asked if an ETV could have made a difference and stated that after tow parted and once all the further attempts to reconnect had been exhausted by the towing tug 'at that stage, there is really nothing further that can be done.' He paid tribute to the efforts of Smit Salvage, Briggs Marine and support from both Scottish and UK governments, local authorities and the local community in successfully concluding the salvage operation with a bare minimum of pollution.
By Peter Barker