Tsavliris Salvage has reported a busy first three months of 2016 attending a variety of casualties and illustrating the importance of a well-equipped and efficient global marine salvage presence.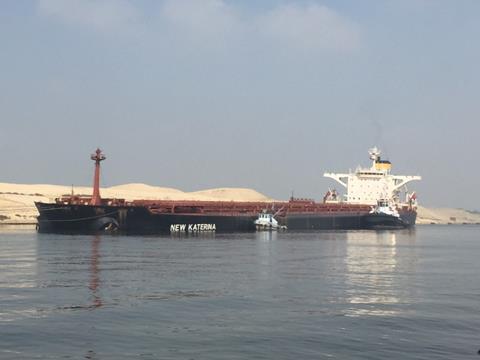 Tsavliris Salvage is a particularly active emergency maritime responder describing themselves as the most frequent user of Lloyd's Open Form (LOF) contracts globally and the year was barely two weeks old when it responded to a disabled general cargo ship 200nm northwest of Benghazi, Libya. The Greek owned vessel named Ocean Glory (4,123gt) was fully-laden with urea when it asked for assistance and Tsavliris mobilised its 73tbp salvage tug Megas Alexandros from Piraeus to the vessel's position. The tug arrived on scene two days later and quickly established a connection for the tow towards Greece. Four days after the initial call the convoy arrived at Piraeus Roads where Ocean Glory was handed over to port tugs for final berthing.
A month later another disabled vessel in another part of the world was to receive the attention of Tsavliris in an incident that posed a significant environmental risk. The tanker Kriti Amber (31,330gt) was fully-laden with crude oil when it became disabled due to engine problems around 13nm south of Sombrero Key, Florida USA. The AHTS Resolve Earl is no stranger to casualty response having spent part of its career (under the name Anglian Earl) as an Emergency Towing Vessel chartered to the UK Maritime and Coastguard Agency and was despatched from Freeport Bahamas by Tsavliris to the disabled tanker. The tug arrived the following day and after connecting up started the tow to Matanzas Cuba. The tug and tow arrived the following day (outside Cuban territorial waters) and Kriti Amber was handed over to port tugs.
A potentially complex salvage operation was avoided later in February when the bulk carrier Alkimos Hercules, partly-laden with 50,000 tons of iron ore grounded at KM27, Canal Punta Indio, Argentina. Tsavliris mobilised the 62tbp One Don Lorenzo from Buenos Aires but the tug was recalled when the stranded vessel refloated by its own means.
Just one day later, Tsavliris responded to another grounded bulk carrier, this time fully-laden with iron ore. The New Katerina (85,590gt) had run aground at KM69 in the Suez Canal. Tsavliris provided technical consultancy and support including planning, surveillance and risk assessment.
Finally, topping off a productive month, the three Tsavliris brothers received the 2016 Capital Link Greek Shipping Leadership Award, in recognition of their 'unique and extensive contribution to Shipping and Greece and for their overall outstanding service to the marine industry'. The Tsavliris brothers were the fourth recipients to be awarded this prestigious award. Previous recipients were Captain Panagiotis Tsakos, Pericles Panagopoulos and Lambros Varnavides (Baltic Exchange, RBS).
By Peter Barker