Tsavliris Salvage has reported another active period responding to a collision leaving two vessels locked together and assisting disabled vessels.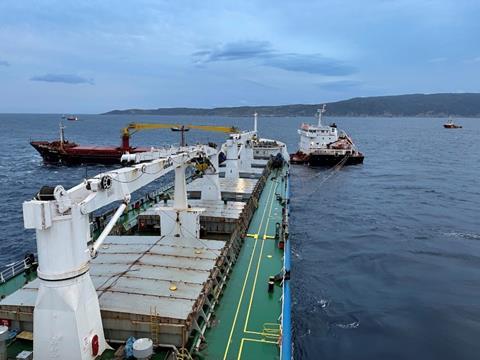 Tsavliris Salvage is known for its global emergency response activities, particularly involving Lloyd's Open Form (LOF) contracts and the first incident to report followed a classic 'T-Bone' collision around 10 miles NW of Kythira Island Greece between the bulk carrier Kiveli while underway from Morocco to Bulgaria laden with 36,100t of Khouribga rock phosphate and another bulk carrier Afina I also laden, with 12,069t of hot briquetted iron on passage from Russia to Spain.
A LOF was agreed with Tsavliris and a fleet of tugs assembled along with associated equipment and divers. Kiveli's bow was embedded into the port side of Afina I forward of the accommodation and as common in such situations the two ships were not immediately separated. The following day the two vessels, still in the locked position were moved by tugs to Vatika Island, Elafonisos where they were separated without any environmental impact. Six weeks of salvage work followed including during spells of bad weather involving moving the vessels within the anchorage, diving operations, offloading of cargo and vessel towage to Piraeus.
When the 76,619dwt bulk carrier Navios Sun became disabled in ballast condition SE of Kuril Islands, Asia, Tsavliris mobilised the 132tbp tug Koyo Maru to assist along with three salvage personnel. Within two days a towing connection was established but the passage to a safe port was hampered by spells of bad weather along with a fishing net entangled in the towing wire. With the assistance of local tugs, Navios Sun was safely berthed at Fujian Huadong Shipyard, China three weeks after the initial breakdown.
A calmer operation for Tsavliris saw the tug AH Liguria tasked from Malta to assist the MV Solstice N immobilised in Genoa, Italy with rudder problems, the ship was safely delivered to Piraeus Roads. An unusual call for assistance resulted when the bulk carrier Master reportedly ran low on fuel due to bad weather during a westbound transpacific crossing. Koyo Maru was again tasked and after escorting the vessel towards Muroran, Japan established a towing connection when it did run of fuel. The operation was completed when Koyo Maru delivered the bulker to Muroran anchorage to replenish its bunkers.
By Peter Barker