A basic design package for a trailing suction hopper dredger (TSHD) destined for beach nourishing and channel maintenance activities has been delivered to a US dredging construction services company.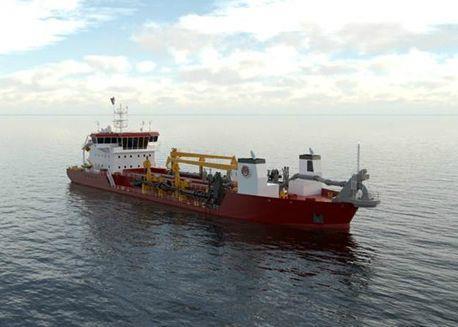 Great Lakes Dredge and Dock Company (GLDD) called on C-Job Naval Architects to design its 346ft TSHD with a hopper capacity of 6,500 cubic yards. This design package is the information from which the ship will be built by Conrad Shipyard, as announced by GLDD on 9 June.
Harry Kikkert, project manager at C-Job, said: "At C-Job Naval Architects we believe the best designs come about in close collaboration with the client. From the start of this project, key members of the technical fleet managers were involved in the design process. Their feedback and those of the crew of which they were in close contact with were paramount to shape the design as it stands now."
Easy to build
The TSHD boasts two suction pipes and has been specifically designed to be easy to build. The hull shape was kept relatively simple while incorporating hydrodynamic design optimisations. This will make the vessel easy to build while still being fuel efficient. In addition, the design is ballast-free which will reduce investment and operational costs.
Lasse Petterson, CEO and president at GLDD, said: "This highly automated new build vessel will increase the capabilities of our hopper fleet in the coastal protection and maintenance markets as well addressing specific needs in the growing offshore wind market."
The vessel is scheduled to be fully operational by 2023.
By Rebecca Jeffrey