A new trailing suction hopper dredger (TSHD) will become energy-efficient with the installation of a shaft generator on the main engine, which generates the electricity for the entire dredging installation.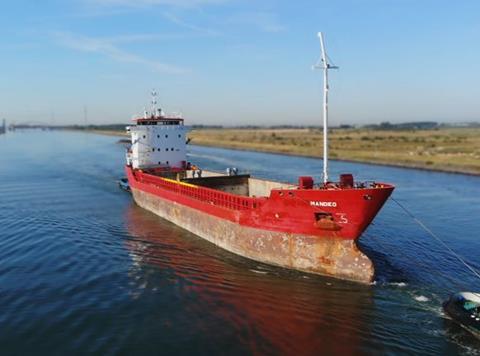 Bakker Sliedrecht will supply and install the shaft generator on Faasse Group's TSHD Schenge to make it more efficient, with an optimised layout and a reduced need for maintenance. Faasse bought the freighter MS Mandeo in order to convert into the TSHD earlier this year.
For the electric drive of the dredging installation and jet pumps, a shaft generator with matching frequency drive from Bakker Sliedrecht will be added, which is connected to the existing main engine by means of a new PTO shaft. The vessel has an adjustable propeller (CPP). Because the main engine runs at a low load for propulsion during dredging, this power can be used for the electrical dredging installation.
As a result, the trailing suction hopper dredger does not require any auxiliary diesel generators. This saves a lot of fuel, space, piping, and maintenance.
"We use the power that the main engine does not need during dredging. That makes the ship much more efficient and also ensures energy-efficient operations," said senior electrical system designer Marcel Bakker and sales engineer Wim Verlek of Bakker Sliedrecht. "Moreover, this solution saves a lot of space and allows a flexible and optimized lay-out of the vessel."
The vessel, which has a hopper capacity of approximately 2600 m3, divided over two holds, so that it can carry two types of product, is expected to be completed in 2020. It will be deployed for sand extraction in the North Sea.
By Rebecca Jeffrey