A quartet of developers have achieved an important regulatory step forward with their autonomous tug project.
Classification society ABS has awarded its Approval in Principle (AIP) to global technology provider ST Engineering, offshore marine specialist POSH and digital communications company M1 Limited for their Smart Maritime Autonomous Vessel (SMAV) project. The AIP follows successful sea trials and covers the project's autonomous navigation and collision detection and collision avoidance (CDCA) technology.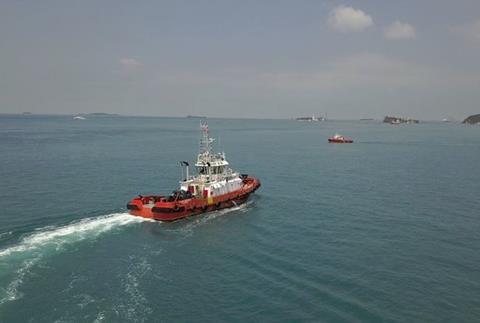 Autonomous vessels, in this case involving tugs are a step beyond another similarly innovative development gathering pace, remote controlled tugs. In other sectors including defence and marine surveying what are known as AUVs (autonomous unmanned vessels) are now increasingly encountered in operation and doubtless the experience gained in such will spill over into other sectors with opportunities for development in the future.
Classification societies will naturally be at the forefront with the necessary regulatory involvement and ABS's recent approval in principle for the SMAV project follows successful sea trials carried out in 2020 with the tug POSH Harvest which was retrofitted with autonomous navigation and CDCA functions which were remotely monitored from a shoreside control centre located in the Maritime Port Authority of Singapore's Maritime Innovation Lab via cellular networks.
Singapore-based POSH (PACC Offshore Services Holdings Ltd) is perhaps best known for its extensive global involvement in the offshore oil and gas sectors including subsea services and operates a diverse fleet of more than 80 vessels. Included here are 17 harbour tugs of between 45 and 73 tonnes bollard pull, POSH Harvest being one of these vessels. The 30m long, ABS-classed and Singapore-registered tug was built in 2010 by Pacific Engineering & Trading Pte (POET) Singapore (hull built by Jiangsu Suyang Marine Co – Yangzhong) and provides 51tbp from Niigata 6L26HLX main engines each developing 1,471kW and powering Niigata ZP-31 fixed-pitch Z-drives.
Congratulating all parties for reaching another milestone in the SMAV project, Cheah Aun Aun, director (shipping) at Maritime Port Authority of Singapore said: "As a supporter of innovation, digitalisation, and sustainability, we are glad that Singapore Registry of Ships is part of this project and we look forward to working with more like-minded industry partners to test-bed new technologies to bring about greater efficiency, safety, and sustainability to the maritime industry."