Boluda Towage and GEG (Holdings) Ltd have agreed a deal where the former will acquire Caledonian's towage activities and its employees based at Invergordon, Scotland.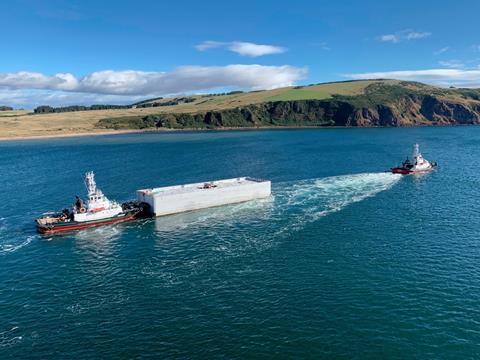 "To continue being leaders in the international maritime towing sector our company needs to expand its scope of operations…" the words of Boluda Corporación Marítima chairman Vicente Boluda Fos describing the ever-expanding activities of the Valencia-based towage operator including activities in the UK under whose auspices the Caledonian Towage fleet will operate.
The agreement includes Caledonian's activities and marine operations along with management, office staff and crew at Invergordon and once incorporated into Boluda's fleet, the local management team will be headed by operations director Andrew Murray reporting to Phil Dulson, general manager Boluda Towage UK. Commenting on the sale, Caledonian owner Roy MacGregor also expanded on the benefits of the sale stating: "The decision for us to accept the opportunity to sell Caledonian Towage to Boluda came at just the right time as we continue to diversify our offering as a business. I would like to offer my sincere thanks to the entire team for all of their hard work whilst working within the GEG Group and wish them well under their new ownership."
Vicente Boluda Ceballos, Boluda Towage vice president executive hinted at the company's future intentions stating: "The strong local team, with highly engaged colleagues will bring a lot of experience and expertise to our company. Having exciting times ahead of us we certainly intend to deploy Caledonian's professional crews and experienced employees on future projects".
As well as a number of small workboats and launches Caledonian Towage's tug fleet comprises three similar 65tbp tugs built in Japan by Kanagawa Zosen in 2005/6. Strathdee and Strathdon were originally named respectively Iide Maru and Azuma Maru for Fukushima Kisen KK, later to become Kintore and Keverne for JP Knight/Knight Caledonian before receiving their current names with Caledonian Towage in 2014. Tug number three in the trio was originally named Fuji Maru later becoming Kindeace (JP Knight/Knight Caledonian) and then Multratug 5 for a time, managed and operated by Multraship Towage & Salvage BV before reverting to Kindeace again in 2020. Currently Multraship are still listed as manager/operator with GEG Marine & Logistics.