An operation from last year reported recently by Tsavliris Salvage underlines the complexity of such incidents requiring the skill and resources only professional salvors can provide.
The incident involved the 2008-built, 58,735dwt bulk carrier Navios Amaryllis which ran aground on Rasfaree Reed in the Kaafu Atoll, Maldives. The vessel was in ballast at the time and on passage from Tuticorin, India to Saldanha Bay, South Africa; on the same day of grounding Tsavliris was appointed salvor and tasked to assist. The anchor-handling tugs Virgo and Maha Wewa were mobilised to the location, the task developing into a major operation involving an extensive fleet of auxiliary local craft including high speed workboats, two landing craft, two barges, forklift and crane-equipped trucks along with a typical array of marine salvage equipment including antipollution booms, skimmers and Dyneema ropes and of course the required complement of skilled personnel.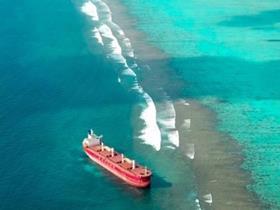 Protection of the environment was as always high on the list of priorities for the salvor in what was considered an environmentally sensitive area and all the necessary precautions were adopted including close cooperation with local authorities and subcontractors including Cyprus-based environmental pollution specialist Polygreen (Polyco Group) who Tsavliris described as "first class."
Preparations for refloating Navios Amaryllis included the transfer of 1,600t of bunker fuel and lubricants from lower to topside tanks to minimise the risk of any potential pollution along with sealing of underwater cracks by divers. After ten days the vessel was successfully refloated and anchored at the port of Male where preparations were made for a tow to a repair yard. Fate had not finished with Navios Amaryllis however when the vessel began dragging its anchor in adverse weather and the tug Virgo was mobilised to assist and tow it back to its initial anchoring position.
Arguably a less dramatic operation for Tsavliris was towing the rescue/survey vessel Ocean Investigator from Ambelaki, Salamis Island, Greece to Tuzla Shipyard, Turkey. The Greek-owned tug Foteini Z was tasked from Piraeus for the job but once again the weather decided to intervene and three days after setting out shelter was sought for a further two days. During the Canakkale Strait passage, a coastal safety tug provided escort services with arrival at the destination marking another successful operation for Tsavliris.