Corvus Energy and Sanmar Shipyards have announced a newly signed Memorandum of Understanding to develop a new range of zero-emission and hybrid tugs.
Newbuild tug orders reported in this column increasingly feature propulsion systems different to the traditional mechanical arrangement of directly driven screws or thrusters. The industry is having to meet increasing demands for more sustainable operations including addressing where tugs experience periods of low power demand but able to provide full power at short notice. Many shiphandling operations take place in built-up urban areas with subsequent awareness locally of emissions.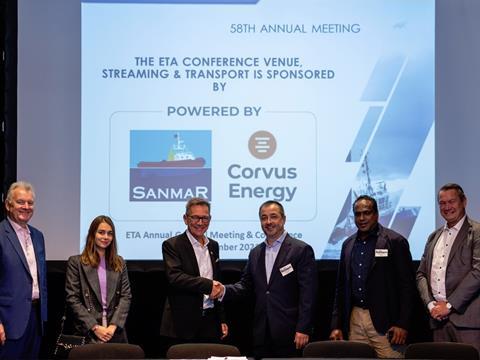 The contribution of hybrid and zero-emission (all-electric) tugs is now recognised, but at the same time requires specialist technologies that previously were perhaps not commonplace within the industry. The agreement brings together the shipbuilding experience of Sanmar with its extensive tug production activities and specialist technology skills of Corvus Energy and was signed during the European Tug Owners Association's meeting in Turku with the full cooperation agreement signing expected to coincide with the Tug Technology 2021 conference in London.
The MOU's aims include developing a new range of hybrid and zero-emission tugs based on Robert Allan Ltd's (RAL) tugs with bollard pulls between 30 and 70 tons, Sanmar's production lines are dominated by RAL designs, some exclusive to the shipyard itself and Sanmar and Corvus plan to jointly explore and establish a path for future supply and integration of energy supply systems and fuel cell technology for an 'even wider range of innovative and cost-effective electric and hybrid tugs.' Corvus will be responsible for battery and fuel cell technology along with dimensioning and advice on battery room design, power systems and fuel interfaces.
Corvus Energy is based in Norway with offices in: Denmark; Richmond, Canada; Seattle, USA and Singapore. Its business segments cover a range of the commercial marine market including ports and its relevance here is explained by Ronald Hansen, senior vice president ship solutions at Corvus: "The tug and workboat market is an important market for Corvus Energy and a big part of our future growth strategy. Battery and fuel cell technology is especially advantageous for workboat and tugs as their operational profile is highly variable. This MOU will help accelerate the development and increase availability of more efficient zero and low-emission tugs."