Rather than running a generator, many ports now provide a 'plug-in' solution, whereby electricity from the local grid can be supplied to vessels where essential on-board services need to be powered up, especially if crew are on board.
Known as cold-ironing, it is considered a preferable solution avoiding shipborne emissions, particularly important for berths in built-up urban areas.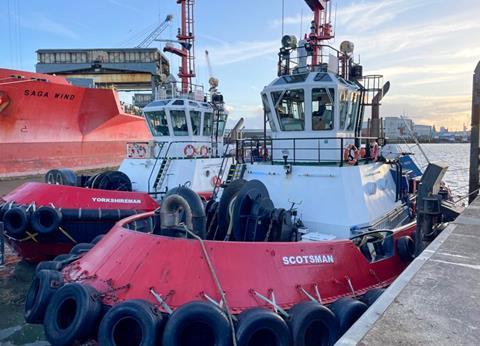 Among the big players of shore-based power users is Heerema Marine Contractors, whose 20MW installation at Rozenburg in Rotterdam provides the not insignificant power requirements for its giant crane ships Sleipnir and Thialf while alongside.
Energy is supplied from the shore grid, including renewable energy from wind turbines on the peninsular that have recently been installed along with upgraded existing turbines. Rotterdam's cruise terminal at Wilhelminakade and the DFDS roro cargo berths further downriver on the right bank at Vlaardingen are other facilities planning to provide shore power to ships.
With both locations close to built-up residential areas they will doubtless be welcomed by the local inhabitants.
At the other end of the scale but just as worthy of mention is the UK's Portsmouth International Port, which is working with SMS Towage to provide a shore connection for its tugs that serve the port.
Portsmouth port has ambitious plans to reach net zero by 2030 and to be emissions free by 2050, and following a presentation by its head of engineering Stephen Watkyns, SMS Towage contacted the port to explore shore power for its tugs, allowing the Hull-based owner's vessels to switch off their diesel generators when in port.
The provision will save 131 tonnes of carbon emissions a year, as well as improving air quality in the area and enhancing the working environment for the crews through reductions in noise onboard. Portsmouth International Port has similar shore-power plans for cruise vessels and Brittany Ferries' new hybrid vessels.
Ronald Keuning, technical manager at SMS Towage, said: "Portsmouth International Port has been extremely helpful in the process of setting up the infrastructure and support needed to get our tugs operating on shore power while alongside in port. The realisation of this project has helped SMS Towage with its aspirations towards a more sustainable and greener future."
Mc Energy signs shore power agreement with Damen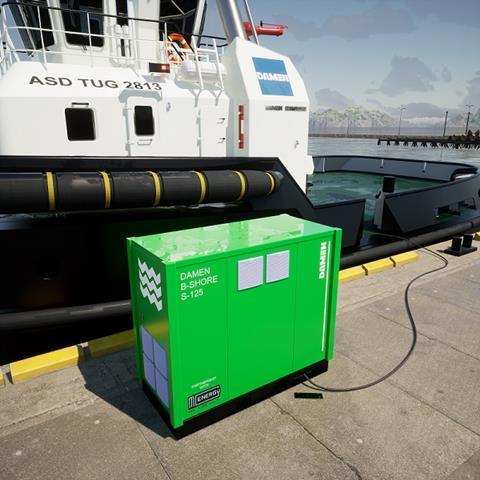 Separately, The Netherlands-based high-end energy solution provider Mc Energy has signed a collaboration agreement with Damen Services to develop a shore power solution. Pursuing the idea is perhaps natural given Damen's development of its RSD 2513-E all-electric tug.
This follows fellow tug builder Sanmar's recent teaming up with Northampton UK-based igus Ltd to produce a shore-based charging system for its own range of Robert Allan-designed ElectRA all-electric tugs (see MJ November 2022) as customers for such vessels ask the question – yes but how do we refuel them?
Entitled B-Shore the Mc Energy/Damen solution can supply multiple voltages and switch between 50Hz and 60Hz, meaning every on-board network can connect to a local network.
The system can absorb any instability on the local grid and provide a safe separation between shore and ship, thus avoiding galvanic corrosion.
It is also possible to connect a battery pack to B-Shore in case the shore power supply is too weak, unstable or otherwise restricted, and it can also supply multiple limited consumption units with shore power simultaneously.
The agreement between Mc Energy and Damen covers construction, sales, delivery and after sales support with Rutger Blaauw, Managing Director, Damen Services saying B-Shore is: "… a new sustainable extension of the Damen Services products and service provision, which we can deliver to shipowners, shipyards and service providers across the globe thanks to our extensive network of service hubs."
In addition to offering purchase of B-Shore units, it will also be working with lease constructions for their clients.
Alex Wesemann, Commercial Director and co-owner of Mc Energy, said: "We look forward to the further roll-out of B-Shore with Damen Services. This agreement is a great stepping stone towards closer collaboration between Damen Services and Mc Energy through the development of spin-off products and solutions that we are already working on."