Finnish propulsion unit manufacturer Steerprop has secured the first reference for its new T series azimuth thruster with Turkey's Med Marine.
Shiphandling tugs come in many shapes and sizes but not all applications demand high power multipurpose vessels. For some ports accommodating more moderately sized ships, tugs of lesser dimensions and lower power are adequate. Whatever the size or power, however, the same demands apply: the ability to provide a safe and efficient solution with increasing demand for sustainability, and importantly, the capability for smaller ports (including where towage services are outsourced) to future-proof their operation as along with their larger cousins they experience gradual increases in vessel size using the port and need to provide towage services that can keep pace.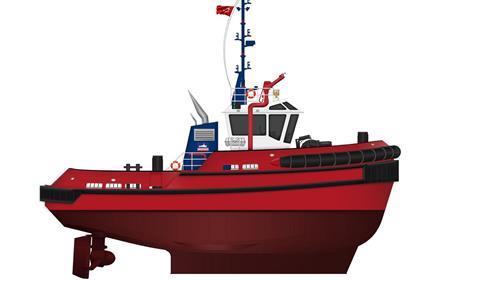 The launch order for Med Marine, with delivery scheduled for January 2023, involves provision of four Steerprop SP 175 T propulsion units for two Robert Allan Ltd (RAL) RAscal 2100 harbour tugs. Summing up its new product, Donato Agostinelli, Steerprop's Sales Manager, said: "The Steerprop T design features improved flexibility, increased modularisation and scalability, while maximising the bollard pull per engine's power input."
The thrusters have propellers of 1.8m diameter turning in nozzles and providing a power of 1,080kW per unit to deliver a bollard pull of 35t for the tug.
RAL's RAscal series are described as "high-performance but relatively simple compact tugs", offered in either Z-drive and single or twin-screw configurations within vessel lengths 12m to 24m and up to 50tbp. Steerprop says the order is for the 35tbp version with a length of 21.4m, beam 11.3m and maximum draught 4m.
Looking at the T design in general, they cover a power range from 1,000kW to 2,800kW and are available in Z-drive, J-drive or integrated permanent magnet motor drive configurations with different propeller and nozzle sizes available. Examining wider, Steerprop's thrusters are produced to satisfy requirements up to 12MW for ice-class operations or 15MW in open water with open or ducted propellers also contra-rotating twin propeller and open pulling configurations.
"With the new Steerprop T product line and the support of our local partner Nemomarin, whose relationship with the customer was instrumental in making this contract happen, we are confident that we have a winning formula for the future Turkish and global tug markets," said Agostinelli.