Netherlands-based Koole Contractors has doubled its number of tugs to four, part of its fleet now actively involved with a wreck removal project off Gibraltar.
The two new tugs, Viking and Norne, were built in 2008 and 2011 by Kooiman Scheepswerf for Koerts International Towage, the former now renamed Koole 31. The pair are instantly recognisable and aesthetically pleasing Kooiman products, again respectively, 30.8m and 34.1m LOA providing 72.3 and 83tbp.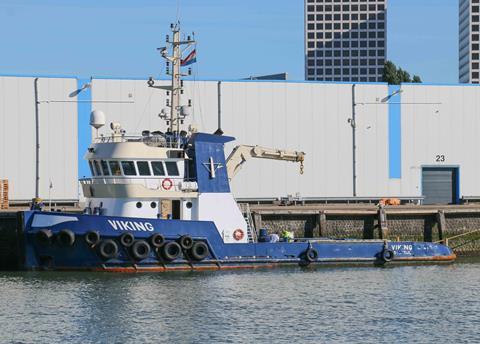 Both are classed for unrestricted sailing, Norne with Ice Class 1C restriction, and they join the 45tbp Koole 42, built in China in 2007, and 77tbp Koole 35, an Armon Astilleros product from 2001. Ks oole 35 has strong European connections, originally Union Diamond for URS Nederland BV with Smit International, Boluda Towage Belgium and Seacontractors also among its previous owners.
Koole 31 was soon active towing the accommodation barge K10030, also part of the Koole fleet, from NW Europe to Gibraltar to participate in removal of the bulk carrier wreck OS35, which was beached following collision with an LNG tanker. Koole 42 was also mobilised to the site from South America with the flattop barge H283.
Koole Contractors describes itself as an "international industrial and maritime service and solutions provider" which specialises in industrial demolition, remediation, wreck removal and maritime construction activities. As well as the four tugs mentioned above, its fleet list includes seven barges, four of which are illustrated with cranes. The 1969 German-built general cargo vessel Koole 74 is also part of its fleet.
The company received a major boost in February 2016 when it acquired the salvage assets from Mammoet Salvage B.V., part of Mammoet Holding B.V. Mammoet's core business is engineered heavy lifting and transport and at the time, while acknowledging there were many similarities with the salvage industry, said the characteristics of the individual markets required that each activity had a specific focus.
As the salvage market was not 100% related to Mammoet's core activities it was considered in the best interest if both Mammoet and Mammoet Salvage each had the opportunity to completely focus on its core activities and strategy. The agreement involved transfer of Mammoet personnel and sale of salvage material to Koole, at the time the new company named Koole Mammoet Salvage B.V. undertook expansion of offices in Singapore and Houston.