Saint Nazaire-based Alka Marine Solutions has joined up with Acta Marine from Rotterdam to form a joint venture named Alka Marine International to acquire a new vessel, incorporating the company under French law and registering it in Saint Nazaire.
The vessel is Acta Marine's Damen Multi Cat 2712 Coastal Aurora. Built at Damen's Gdansk facility in 2014, it is described as "perfectly adapted to offshore wind support operations" with a 150m2 deck, two 9.8 tonne cranes, a 150 tonne winch and Caterpillar main engines driving fixed-pitch propellers delivering a bollard pull of 34 tonnes.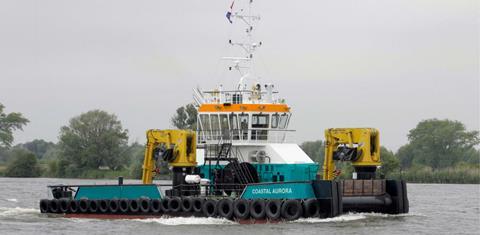 Coastal Aurora is manned by French officers with an international crew working in rotation, the arrangement creating 10 new jobs. At the time of the announcement, the vessel was reported as operating under the Dutch flag, the new owner hoping for a "positive decision from the Commission Régionale de Sécurité des Affaires Maritimes" to see it join the French fleet.
Family-owned Acta Marine was founded in 1970 and is well established within the maritime service sector. It owns more than 40 vessels, including Damen and Neptune Marine-built DP workboats, six Shoalbuster tugs, four walk-to-work vessels and various survey and crew transfer vessels and barges.
Alka Marine is formed from specialist shipowner Alma Shipping and maritime engineering company Kappa Offshore Solutions. The close relationship between Acta Marine and Alka Marine is illustrated by the latter's fleet list, which includes vessels from Acta Marine's stable.
Selecting a conventional tug of interest, Alma Kappa was built in Malaysia in 2008 as Forth Hunter for Briggs Marine Contractors. In 2012 it was renamed Mainport Kells and later Halul Bey for Irish principles before coming under Alka Marine ownership in 2020.
Speaking jointly, Thibaut Choquer and Nicolas de Boer from Alka Marine and Govert Jan van Oord from Acta Marine said: "From our long-term partnership on workboats, we have decided to jointly invest in a reliable and known vessel that enables us to carry out complex maritime operations safely. It is a large, modern and comfortable vessel and with this new vessel we keep track of our strategy to develop our services marine energies market and meet our customers' expectations."