Kotug International and Shift Clean Energy have formed a partnership to use Shift's new PwrSwäp swappable batteries on Kotug's E-Pusher tugs.
In 2021 Kotug established an inland shipping division featuring modular and scalable electric powered pusher tugs and smart AI-driven dispatch and route planning applications for the inland waterways transportation industry. The tugs are powered by swappable energy containers deployed on a pay-as-you-go basis.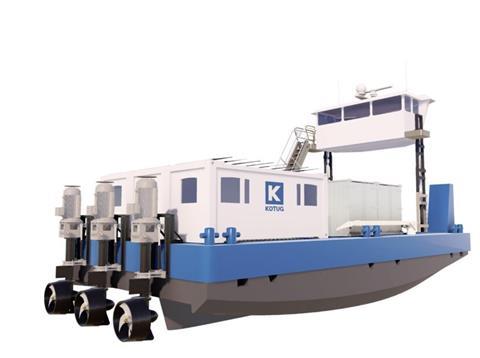 The signing of the MoU between Kotug and Vancouver BC-based Shift coincided with COP26 in Glasgow, the partners stating the combined services will support the maritime industry in reducing greenhouse gas emissions today, without requiring any upfront capital costs and at competitive rates. Shift states its pay-as-you-go service is "a first of its kind" avoiding capital expenditure and providing the batteries when and where they are needed.
Fully charged ePod battery cartridges, connected through cloud-based services and management centres are installed on the principle of being sized per trip, not for the size of the vessel. The batteries are swapped at automated PwrSwäp stations "within minutes."
Shift's energy storage systems are intended for a wide range of applications both maritime and shore based including ports and ferry terminals but it is perhaps the product's modular nature that fits with the similar nature of Kotug's E-Pusher tug concept.
Kotug offers three E-Pusher models in the series ranging from 5.5m to 22m in length and maximum depth of 0.45m to 1.35m resulting in draughts 30% less than conventional pusher tug designs. As well as battery power, the swappable energy containers offer Stage V diesel, biogas and hydrogen options. Kotug's OptiPort dispatching, route planning and reporting tool optimises expected departure and arrival times, routing and speed control reducing energy usage allowing just-in-time operations and is currently in use in Australia, Japan, Belgium, Canada, US and the Netherlands. An S-type E-Pusher marketed as CityBarge is now in use transporting waste on the historic canals in Leiden, the Netherlands.
Shift CEO Brent Perry said: "The message of COP26 is clear; we have to make changes now, with no time to waste. Shipping accounts for significant GHG emissions, contributing to climate change, as well as particulates that are unhealthy for communities living near ports and inland waterways. PwrSwäp and E-Pusher bring zero emissions solutions today.