The acquisition involves two well-known towage and related service providers operating in similar markets including the "worldwide floating facility business", such as FSO, FPSO, FLNG, FSRU and SPM Terminals.
Dubai-based Seaways is a family-run business built from scratch by Captain Ashish Nijhawan, his sons and wife, and is now part of another family-run company with Kotug President and CEO Ard-Jan Kooren saying its corporate cultures and values are "very similar and compatible" to Seaways.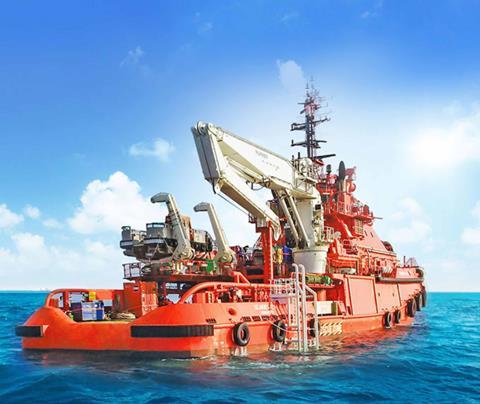 Kotug's activities are truly diverse, including the floating offshore market, and it is this area of operation where Seaways assets will provide particular enhancements.
As oil and gas exploration moved offshore, tugs were required to have the ability to handle the anchors that held rigs and other floating plant in position. Anchor-handling tug supply vessels (AHTS) were a popular answer for carrying liquid and bulk cargoes to rigs as well as tending to the towing and anchor-handling activities.
A variant of the AHTS was the anchor-handling tug (AHT) providing similar capabilities but without the cargo capacity, often distinguishable through being shorter in length but still with the stern roller.
Seaways' website has seven AHTs listed in its fleet, dominated by five similar multipurpose vessels: Seaways 12, 16, 20, 22 and 24, providing an indication of the steady growth of the company all built by Keppel Singmarine, Singapore between 2007 and 2016 with bollard pulls between 81 and 125 tonnes and meeting either fifi1 or 2 and DP1 or 2 standards, some with oil recovery capabilities.
Also in the list and built in 2005 and 2006 by Dubai Drydocks and Guanghzou Panyu Lingshan/Cheoy Lee China respectively are the AHTs Seaways 10 and 15, providing 99tbp and 41tbp.
Seaways will also contribute fast crew suppliers and cargo barges to the expanding Kotug fleet, with Mr Kooren saying: "It is with great respect that we say goodbye to Captain Ashish Nijhawan, his sons and wife, whose accomplishments have been outstanding. Today, we welcome 340 new colleagues into the family-owned Kotug group of companies, whose corporate cultures and values are very similar and compatible."