The British Tugowners Association, as part of the UK Chamber of Shipping, has published a good practice guide for recovering persons from the water into small vessels.
"It follows that reading this guide, and implementing the recommendations contained herein could, quite literally, be lifesaving," said Professor Mike Tipton MBE, FTPS from the Extreme Environments Laboratory, University of Portsmouth, who set the tone for addressing one of the most difficult emergency operations seafarers can face – recovering a person from the water.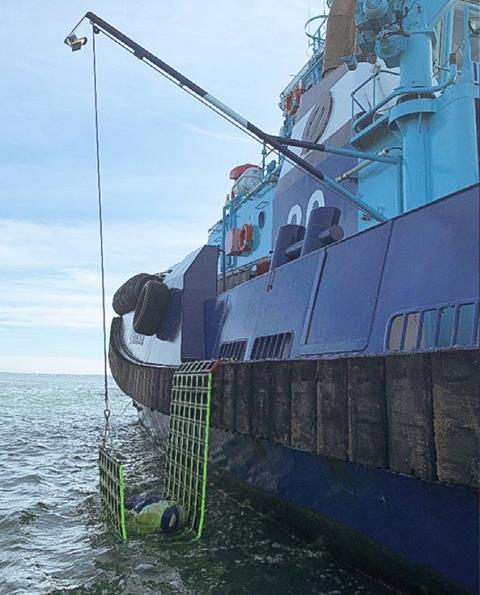 Professor Tipton said that when it came to cold water survival, knowledge equals survivability and the guide reviews recovery tools and techniques, considering both common and new equipment.
Small vessels such as tugs and workboats may have a crew of just three, requiring single person recovery with little advantage for techniques requiring two persons.
Regular training is important, remembering that a seafarer may never have to carry out the procedure for real during their career, but when called to do so they need to be as familiar with it as tasks that are carried out daily.
Four phases of recovery
Recovery methodology covers four phases: making a connection to the casualty, getting the casualty under control, recovery to the deck and medical care including post-rescue support on board.
The guide considers fundamental questions such as is the casualty capable or able to assist themselves? Were they prepared for water entry, i.e. wearing PPE, lifejacket?
Contact with local VTS services may be usual means of communication for small craft but the importance of a channel 16 distress alert followed by voice 'Mayday' to the coastguard is stressed and Royal National Lifeboat Institution "Float to Live" advice should be communicated to the casualty where possible, advice that will greatly enhance the situation.
Various means of making a connection with someone in the water are examined, including
Lifebuoys, crooks, rescue slings and poles and throwing lines, the importance of the positioning and maintenance of lifebuoys being stressed.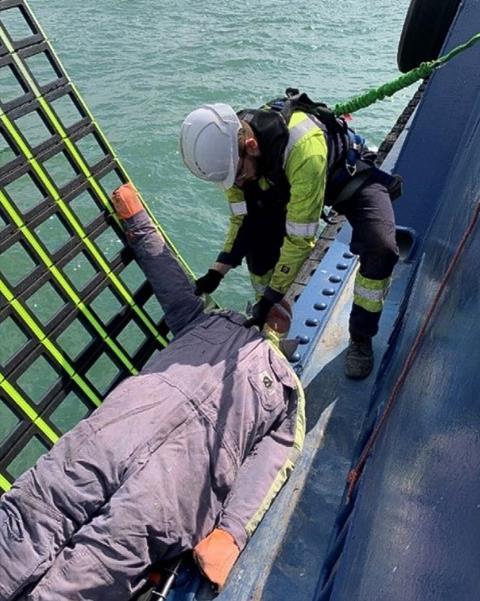 Gaining control of the casualty, who may unintentionally panic and appear irrational, is vital. There is evidence that telling casualties they are "safe", "we've got you" and encouraging them to keep fighting for their survival, could influence the outcome.
Rescue equipment
The guide says that where casualties are able to help themselves, ladders, liferafts or recovery cradles and nets can be deployed while other recovery equipment is prepared, but with the crew ready to switch to unconscious casualty mode if the casualty loses their grip strength or other abilities.
Manually recovering a casualty to the deck is extremely difficult, if not impossible, given often limited manpower and the vessel's freeboard. This is worse if the casualty is unconscious or incapable of self-help, and the relevant section describes the operation of various recovery cradles and scoops, with equipment examined in detail later in the guide.
The question of horizontal vs vertical recovery of casualties is addressed, and it is clearly important for all involved to fully understand this aspect.
Medical care and post rescue support is covered extensively, again important particularly where it may take a while before handing over to the emergency services.
Safety of the rescuers is explored along with the testing and maintenance of recovery equipment and the guide recommends that visibility of external decks be considered, particularly the recovery zone, remembering that with a three-person crew only one will be on the bridge.
CCTV (often present to assist mooring operations) is another aid that can be used both in monitoring danger zones and in subsequent recovery operations.
Thermal and infra-red cameras, personal locator beacons and personal radios are other devices that will contribute to the overall safety of the crew.
Demonstrating competency, drills, familiarisation and training is vital, especially since a genuine situation could occur on a dark, stormy, winter night.
Rather than rising to the challenge in high-pressure situations, it is more common that people fall back on their training, and the guide examines practice scenarios with weighted mannequins.
Points of particular importance include training for both newcomers but also experienced and long-serving crewmembers, along with pointers that seemingly standardised sister-vessels may not be the same in every detail – a misplaced winch-handle, for example, can be critical in an emergency.