Lloyds has expressed its commitment to Lloyd's Salvage Arbitration Branch (LSAB) and to oversee Lloyd's Open Form contracts (LOF) after earlier suggesting LSAB services could be stopped.
The International Salvage Union (ISU) spearheaded an industry-wide response earlier in 2021 expressing concern and being 'stunned' at Lloyd's notification of consultation on the proposed closure of LSAB in the face of declining use of LOF (see MJ June 2021). ISU considered that to discontinue support and endorsement for LOF contracts would have a serious impact on safety at sea along with a potentially significant impact on the environment.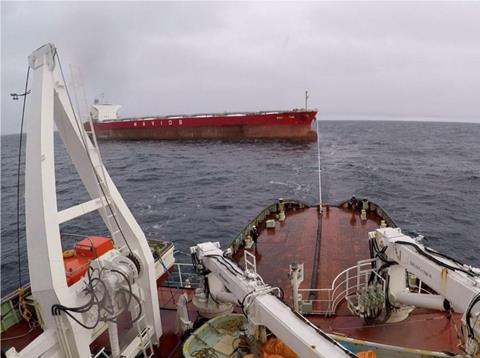 Lloyds has now confirmed that following industry-wide consultation where it 'recognised and listened to' the high volume of representations in support of LSAB and LOF it will continue to operate LSAB and oversee Lloyd's Open Form contracts and procedures. The industry will be further encouraged by Lloyd's statement that it is now determined to increase the use of the form and highlight the benefits that its use can bring.
ISU stated it was grateful Lloyd's had consulted widely when reviewing the future of LSAB and LOF and in its earlier response to the review stated that its members are party to the great majority of LOFs and that it stands ready to play its part in the work to ensure better understanding of the benefits of the contract and to increase its use.
In its statement Lloyd's says that with support from Lloyd's Market Association and representatives of the Lloyd's market (marine) committees it would like to establish a LOF Market Working Group to support and help drive the review with support from the already established Lloyd's Salvage Group. Once complete the findings with actions and recommendations will be presented to Lloyd's Council and Lloyd's charging structure will in the meantime be amended to better reflect the importance of the work undertaken by LSAB
Jos Standerwick, CE of Maritime London, the shipping professions' body in London, commented: "I am exceptionally pleased that Lloyd's have made the right decision on the future of the LSAB and is committed to working with the market to increase the use of LOF and highlight the benefits that it can bring. We and our members, will do all we can to support Lloyd's in this endeavour