Rotterdam-based towage provider Kotug has strengthened its shiphandling operation at Port Hedland, Australia with the arrival of two new ART80-32 Rotortugs.
The new vessels have been deployed on a long-term charter as part of the operation with mining group BHP to support bulk carriers loading at Port Hedland, Western Australia and will bring the number of Kotug Rotortugs operating at the port to eight. Rotortugs are distinctive in their adoption of three azimuth thrusters in an isosceles triangle configuration comprising two side by side forward and one on the centreline aft.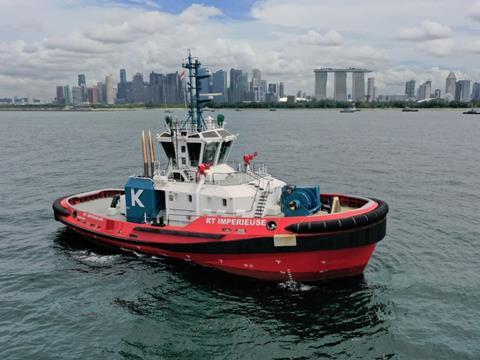 Robert Allan Ltd has an exclusive designer agreement with Rotortug (the shipbuilding and trading arm of Kotug) with the two new vessel bearing the names RT Clerke and RT Imperieuse built by Cheoy Lee Shipyard in southern China. The names are derived from Clerke Reef and Imperieuse Reef, two of the three reefs that form coral atolls in the Rowley Shoals Marine Park, 300km west of Broome.
Rotortugs are offered in a variety of sizes and power outputs from the 15m, 10tbp training Rotortug RT Borkum to the 46m, 100tbp ART100-46 variant. The ART80-32 is powered by three Caterpillar main engines with a total output of 5,295kW and bollard pull of 80t and sailing speed 13kn. Deck machinery includes advanced DMT escort winches. The other seven Kotug Rotortugs currently at Port Hedland are RT Darwin, RT Discovery, RT Inspiration, RT Tough, RT Enterprise, RT Endeavour and RT Atlantis all of which are also 80tbp designs.
BHP (Broken Hill Proprietary) was founded in the mid-1800s and formed from a merger with Billiton in 2001. Both companies have a rich history in the metals and mining sector, Port Hedland being just one of a number of active locations for BHP. The scale of the shiphandling operation at Port Hedland of which Kotug is just one provider is illustrated by the figures of 15 berths handling ships up to 320,000dwt with in 2020, 280 million tons of iron ore being produced by BHP.
Ard-Jan Kooren, president and CEO of Kotug International says: "We are very pleased that BHP, our partner for more than 12 years, once again put their trust in Kotug's ART 80-32 in a long-term contract. The vessel is a perfect fit for assisting the world's largest, heavily loaded vessels in the Pilbara region."