Following the success of two ambulance 2200 fast catamarans last year, two similar vessels have been ordered for operations in Bergen, Norway, for marine services firm Buksér og Berging.
Shipbuilder Kewatec will deliver the 22m x 7.5m boats to Smøla and Romsdalsfjorden in early 2024, it says.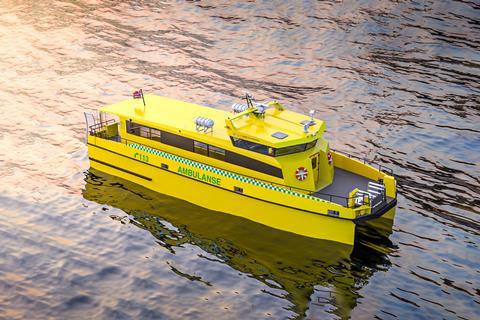 "Ambulance 2200 is like a mini hospital on the water," says Kewatec. "The boat has an aluminium catamaran hull and two Volvo Penta D13 diesel engines, Compared to the previous Ambulance 2200 boats delivered, these new boats will have waterjets from Kongsberg instead of IPS propulsion." Two 1,000 litre fuel tanks feed the engines, and the boats are also equipped with thermal cameras for water rescues.
The boats, which have seating for 12 people and two complete stretcher patient areas, have a service speed of 30 knots.
As well as providing ambulance boats, Buksér og Berging offers a range of other services, such as towage, salvage and offshore support. Most of the firm's tugs are equipped for fire fighting, oil recovery and emergency towage.
Ambulance boats are not common on the world market, says Kewatec, but the large archipelago of Norway and permanent inhabitants on islands along the coast require high-standard mobile hospital and patient transport services.