Boskalis has published a book describing the efforts of subsidiary Smit Salvage with refloating the container ship Ever Given in the Suez Canal.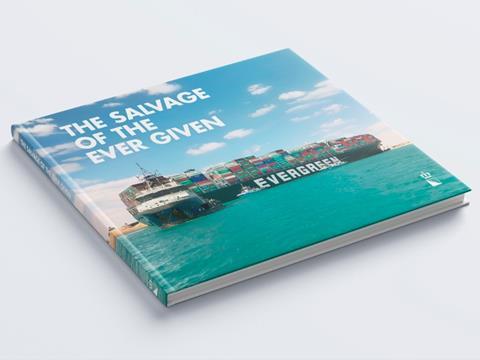 Salvage companies are sometimes shy in reporting details of what are often difficult and dangerous operations that save lives, protect property and preserve the environment, so the book The Salvage of the Ever Given must be welcomed. It was prompted by the global media attention and request for information following the grounding and the 80 page book is a behind-the-scenes look at the incident. Generously worded, well-illustrated with photos not seen previously, and reasonably priced it is in Dutch or English and can be ordered through the Boskalis webshop https://shop.boskalis.com/books
Concarneau France-based tug builder Piriou has consolidated its newbuilding capacity with the takeover of ATG Shipyard in Romania.
Piriou had subcontracted work to ATG previously following the trend for western European shipyards to construct hulls in countries with lower labour costs and the acquisition will allow the company to offer vessels including tugs, 100% built by Piriou and aid its ambition of doubling activity by 2025. ATG has four 110m assembly halls and a 250m long outfitting quay with a Synchrolift of up to 3,000t capacity.
Another European shipyard expanding its presence is Sanmar who has acquired a third yard in Turkey.
The company already builds tugs at Sanmar Tuzla and Sanmar Altinova and the latest expansion involves purchase of a small shipyard that specialises in the construction and repair of small workboats and fishing vessels, located next to the Tuzla facility. After rebuilding to meet Sanmar's standards including new offices, warehouses and pre-assembly halls it will be optimised for construction of the new ElectRA class electric tugs designed by Robert Allan Ltd and built by Sanmar.
Damen Shipyards Group is expanding its global servicing facilities with the opening of a new service hub in Hamburg, Germany.
An important part of Damen's offering to customers is its network of local facilities providing speedy and specialist response to servicing its products with this new centre available to non-Damen vessel customers also. The new hub will serve clients in Denmark and Poland as well as Germany and be staffed by local personnel with experience in shipbuilding and maintenance in their region, an expansion of its network of local suppliers is also taking place.