Boluda Towage has assisted the arrival and departure of the world's largest barge at the Dutch port of Flushing.
Heerema Marine Contractors barge H-851 arrived under tow for two months of preparation before departing for Malaysia, Boluda providing four shiphandling tugs for the berthing/departing stages for the 260m long, 63m wide barge. Prior to each stage Heerema representatives, pilots, linesmen and Boluda tow masters held planning meetings discussing safety aspects, responsibilities, communications and operational restrictions. Two Boluda tow masters provided communication between the harbour tugs and leading oceangoing tug, with Heerema saying: "It is and remains impressive to see the tugs of Boluda Towage assisting this barge".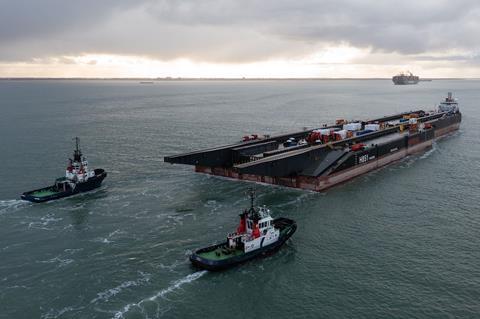 Another operation, typical of small, short-duration tasks that can often go unnoticed has seen Acta Marine's support vessel Coastal Challenger in action at IJmuiden.
The requirement was for a dynamically positioned vessel to place gravel bags as protective cover on a subsea cable in a campaign lasting just two days. The 37m ultra-shallow draught vessel was equipped with an acoustic subsea positioning sensor and transponder on the crane hook to establish the correct subsea position, charterer C-Ventus saying: "We know from past experience that Acta Marine is a flexible partner for these jobs with a fleet of smaller DP vessels that are well suited and a cost-effective solution for short fly-by campaigns like this."
Dutch company Hebo Maritime Services recently added ten flat top barges and an additional floating sheerlegs to its ever-expanding fleet.
The barges, equipped for both inland and offshore purposes vary in length from 50m to 84m and were acquired from maritime contractor Boskalis. Hebo has also recently acquired the floating sheerlegs Taklift 4, another ex-Boskalis vessel now renamed Hebo Lift 10. At 2,200 tonnes lifting capacity it is the largest of nine similar sheerlegs in Hebo's fleet, whose website lists more than 20 various craft including specialist oil spill response vessels.
Schottel expands its after-sales service network.
With more than 10,000 vessels equipped with Schottel propulsion systems globally, local support networks are important and two new service partners have been added. Vulkan Española, established in Spain in 1969, and French specialised repair yard Sud Moteurs can in Schottel's words "provide professional support in the Mediterranean region faster than ever before". The new providers join eight fully equipped repair workshops employing more than 170 engineers globally supporting customers equipped with Schottel products.