The Icelandic Coast Guard's emergency response fleet has been enhanced with the addition of a powerful anchor handling tug supply vessel previously employed in the offshore oil industry.
Freyja arrived in Iceland recently from Rotterdam where it was converted from the AHTS GH Endurance. Replacing the patrol vessel Týs it will be based in Siglufjörður patrolling Iceland's east and north coasts. Built in South Korea in 2010, and previously managed by United Offshore Support, Freyja is a well-equipped, Ulstein UT786CD design 86m in length with a 200t bollard pull via a 400t Brattvaag winch.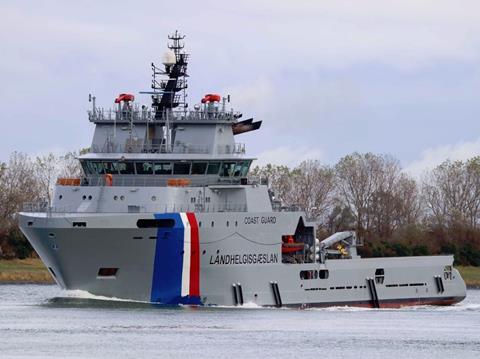 Boskalis and its co-shareholder KS Investments (Keppel) have announced the sale of their harbour towage activities in Singapore and Malaysia to Rimorchiatori Mediterranei S.p.A.
The deal relates to Keppel Smit Towage (KST) and Maju Maritime Pte with Boskalis expecting to receive approximately EURO 80 million in cash for its 49% equity stake and follows its strategic decision in 2019 to divest its harbour towage activities having previously sold its stakes in Saam Smit Towage and Kotug Smit Towage in that year. KST operates a combined fleet of 58 tugs in Singapore and through its JV in Malaysia.
Kotug International has won a long-term contract with Perenco Oil & Gas Gabon SA providing towage support for its operations off Port Gentil, Gabon.
Kotug Gabon SA has been established for the contract 'providing knowledge and work experience for local people' and Kotug's two first-ever Rotortugs RT Magic and RT Spirit have been deployed for the contract, to be joined temporarily by its recently delivered newbuild, 120tbp ASD tug SD Honour to be replaced by a third Rotortug in due course.
An important milestone has been passed for Damen with installation of batteries on Sparky its first fully-electric RSD-E Tug 2513 for New Zealand's Ports of Auckland.
Delivery of Sparky will be a notable occasion for Damen following progress elsewhere in the world of all-electric tugs. The installation at Damen's Song Cam Vietnam facility involves some 2,240 batteries, totaling 2,784kWh arranged in strings for redundancy with others carrying on working if one was to fail. The tug's work profile will involve carrying out two or more berthing/unberthing operations with up to 70tbp on one charge. Following this it will take just two hours for Sparky to recharge to full capacity.