A quiet news period allows room for a more detailed look at two tug deliveries and one order of interest reported in recent weeks, both with European involvement.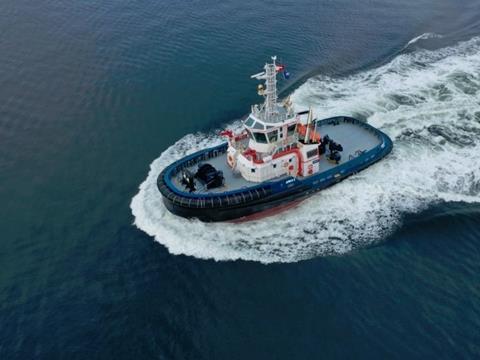 The popularity of Damen's Shoalbuster series of shallow-draught tugs continues with delivery of Caspian Amwaj, a 3815 SD variant and the largest Shoalbuster in Damen's catalogue to Caspian Offshore Construction LLP. The vessel was built for stock by Albwardy Damen with delivery taking place just four weeks after contract signing and Caspian Amwaj, which can operate in just 120cm water depths, will initially be deployed on a project in the Arabian Gulf.
Contributing to the tug's ultra-shallow draught capabilities are the four 1,000mm diameter Promarin FP propellers with no fewer than seven Caterpillar engines installed on the vessel. Prime movers are four C12-TA engines producing in total 1,148bkW and connected to the propellers turning in v.d. Giessen Optima nozzles via Reintjes WAF244L gearboxes delivering 18.6tbp and speed 10kn. In addition, there are two C4.4 main and one C9.3 DITA generators and manoeuvrability is enhanced by two Kalkman Beta 122bhp tunnel thrusters forward. Secondary systems include transfer pumps from Azcue and fuel oil separator by Westfalia. Tank capacities include: fuel oil 163.3m3, fresh water 68.6m3 and lube oil 2.9m3.
BV-classed Caspian Amwaj carries the notation: I✠HULL MACH, Offshore Support Vessel (Anchor Handling: Tug) Unrestricted Navigation, AUT, UMS, Green Passport EU, Inwatersurvey, DYNAPOS AM/AT (DP1) and is designed for multiple roles including: anchor, buoy and hose handling; towing and general support for the O&G industry and dredging support activities.
The vessel has a substantial cargo capacity with a deck area of 185m2, a raised aft deck loading of 15t/m2 and main deck loading of 1.5t/m2. Its capabilities are reflected in the deck equipment specification which include a 72t brake load anchor-handling and towing winch, Heila HLRM 140-SLK deck crane (14.6t@7.64m, 5.1t@18m), towing pins, tugger winch and four-point mooring system. An extensive navigation and communications fit for GMDSS Area A3 is included featuring equipment from suppliers including Furuno, Cassens, Anschuetz, Simrad, Jonton, Phonetech, Thrane & Thrane and Naval (radio/TV antenna system). Standard accommodation provides comfortable living space for eleven persons.
Med Marine's Ereğli Shipyard has delivered a Robert Allan Ltd-designed ASD tug to a client not in the first instance involved in the general world of towing. Piraeus-based Sekavin S.A. was founded in 1979 and supplies fuel oils, distillates and lubricants in the wider area of Piraeus port, Agioi Theodoroi and Syros island. Its website indicates a fleet of two bunkering tankers which are now joined by the new tug, named Itanos, a vessel of 25.2m in length on a beam of 12m. As with the Caspian Offshore delivery, Caterpillar once again features in the engine room with two 3516C main engines developing 4,200kW with a C4.4 generator set also included. Propulsion is via Kongsberg US 255S fixed-pitch thrusters delivering 75tbp and speed 12kn. A THR Marine towing winch is included and MLC-compliant accommodation provided for seven persons.
Final news this month involves the delivery of a pair of 81tbp RAL RAstar 3200 tugs to Augustea Gran Colombia by Turkey's Uzmar Group. The vessels involved were built by Uzmar in 2019 and previously operated in shiphandling, coastal towing, general purpose and escort towing services as part of Uzmar's own national fleet at Ambarli port, Istanbul. The pair have been renamed RR Macondo and RR Santa Marta and will serve the port of Colombia in their new role.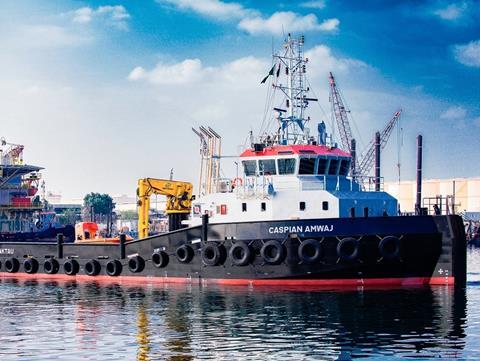 Augustea Gran Colombia is part of Rimorchiatori Mediterranei S.p.A (in turn part of Rimorchiatori Riuniti Group) and at the time of the contract signing at Uzmar's head office in Istanbul Mr Noyan Altug, Uzmar chairman hinted at possible future activities between the shipyard and client stating he was: "… very proud that Rimorchiatori Mediterranei Group and Augustea Gran Colombia chose Uzmar built and operated tugboats to expand their fleet and strongly believe their cooperation will only improve and grow in the following years with different projects."
Rimorchiatori Riuniti encompasses eleven associated companies and Rimorchiatori Mediterranei, mentioned here has been making the news in other ways of late with its acquisition of 100% of Keppel Smit Towage Private Limited and Maju Maritime Pte Ltd two of the largest harbour towage service providers in Singapore and Malaysia (see MJ January 2022).