This month's review includes five vessel deliveries and one order all with European connections and reflecting the popularity of standard designs from established shipyards specialising in tugs and workboats.
A regular feature in Neptune Marine's news is its EuroCarrier multi-purpose workboat series and UK-based Sustainable Marine recently took delivery of Tidal Pioneer a EuroCarrier 2611 design for operation in the Canadian renewable energy market. The 26m long, Tier III compliant vessel develops 34.7tbp from twin Caterpillar main engines and features Heila deck cranes forward and aft, anchor-handling, towing and tugger winches and a powerful four-point mooring system for operation in currents of seven knots. Tidal Pioneer is classed by Bureau Veritas and flies the Canadian flag.When Perth, Western Australia-based Engage Marine was awarded the towage contract at Abbot Point under a licence awarded by North Queensland Bulk Ports Corporation, the towage provider turned to Damen Shipyards Group for three newbuild tugs for the operation and recently, Damen's Song Cam Vietnam shipyard delivered the ASD tugs Engage Raider, Engage Rogue and Engage Rebel to Engage Marine. The trio, yard numbers 512568, 512569 and 512570 respectively are examples of Damen's 'next generation' ASD Tug 3212.
The ASD Tug 3212 has evolved over time since yard numbers 512501 and 512502 Baladha and Bulgu were delivered by Song Cam in 2012, also to Australian principles. The latest iteration retains a slender waterline with a relatively low wheelhouse, slope frames and bilge keels which Damen states provide good seakeeping characteristics guaranteeing low accelerations delivering improved crew comfort and better stability. Typical specifications include length 32.7m, beam 12.82m and maximum draught 5.9m. Twin Caterpillar main engines drive Kongsberg US255 azimuth thrusters delivering a bollard pull of 83t ahead and 78t astern and speed 13.5kn.
Damen has welcomed a returning customer in Ports of Jersey Ltd who has taken delivery of the Shoalbuster 2711 Duchess. The Shoalbuster is arguably Damen's most successful recent series of tugs, available in various versions and this example follows the slightly smaller Shoalbuster 2709 Duke of Normandy delivered to Ports of Jersey in 2005.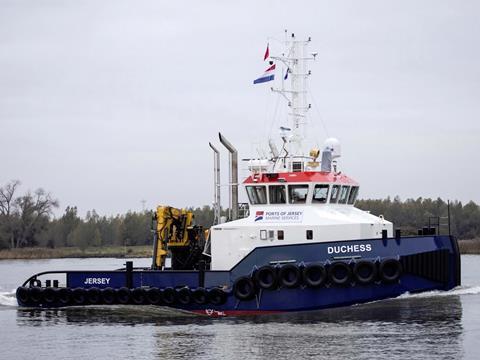 The extra stability from additional two metres beam keeps it in compliance with MLC regulations and easier to operate for clients working under the UK Workboat Code. With a bollard pull of 43t, a large deck crane and extra space on and below decks Duchess is well suited for a range of operations including marine construction, anchor-handling, dredge assistance and surveys with windfarm operations in UK and French waters and up into the North Sea among its list of capabilities.
Canadian naval architect Robert Allan Ltd (RAL) is well-established as a prolific designer of tugs and has introduced a new variant to its portfolio with delivery of the RAstar 2800CL escort tugs Svitzer Suez 1 and Svitzer Suez 2 both built by Cheoy Lee Shipyard and ordered for operation in the Suez Canal, the second of the duo recently arriving in the Suez canal region following its delivery voyage.
Svitzer Suez 1 and 2 may be the first examples of the new design but a sign of the confidence the market has in RAL tugs is evident with a further nine tugs to this marque already on order with Cheoy Lee. The design started with a blank sheet of paper with the aim of having the flexibility to allow for various propulsion options, Tier III solutions, deck machinery choices and accommodation layouts, all allowing Cheoy Lee to accommodate clients' requirements even late in the construction process. The RAstar 2800CL complies with IMO escort stability criteria up to speeds of 10kn and exceeds many flag and/or owner safety requirements including 45' stair angles throughout. Svitzer's 28m long LR-classed, fifi1-equipped example is powered by a Caterpillar/Kongsberg main engine/thruster combination providing 82tbp with MacGregor providing escort and towing winches forward and aft.
Finally, an order announcement MJ will doubtless return to sees Sicily-based Rimorchiatori Augusta SrL placing an order for two Bogacay-class (RAmparts 2400X) design tugs with Sanmar Shipyards. The 60tbp pair include upgraded propulsion systems making them Tier III compliant and powered by 1,901kW Caterpillar 3512E main engines and Kongsberg US205 thrusters. The vessels carry the building names Bogacay LII and LIV and are due to be delivered to Augusta Port in Sicily towards the end of 2022.