Turkey's Sanmar Shipyards and Canadian naval architect Robert Allan Ltd (RAL) recently celebrated the 50th delivery of a successful compact shiphandling tug design.
"When a new design is created, it's not easy to predict how successful it might be," were RAL's thoughts of the Sanmar-exclusive RAmparts 2400-SX, a shiphandling tug design originally created in 2011.
Delivery of vessel number 50 suggests they created a vessel that would endure, entrusted to a shipyard with a track record in quality series-built products and the latest milestone in a three-decade collaboration between designer and builder.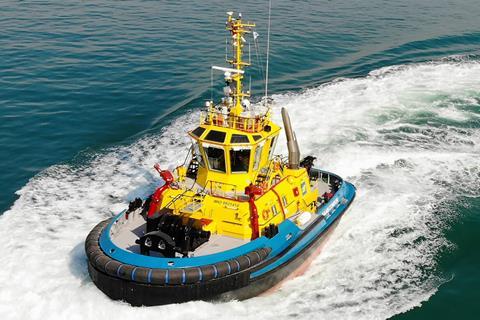 As normal with Sanmar-built tugs, vessel number 50 was built under a design name, Boğaçay L, and following delivery to its new South American owner SAAM Towage has been renamed Saam Condor.
The RAmparts 2400-SX offers various propulsion systems delivering up to 70tbp and recognising there is rarely a one-size-fits-all situation, including where owners may specify components common to other vessels in their fleet they can be delivered with a variety of power train, deck machinery and accommodation layout options while also paying particular attention to the tug's intended area and mode of operation.
To Texas
A further RAL item of newsworthy of note concerning a delivery to US principles is the addition of a RApport 2600 compact shiphandling tug to Bay Houston Towing Co for operation at Galveston, Texas.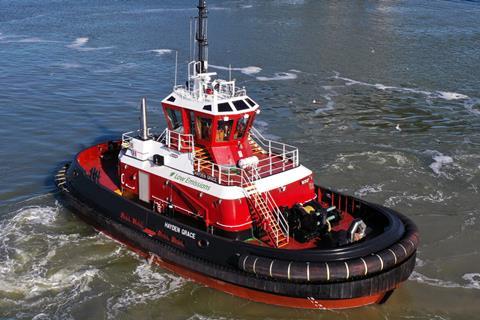 Built by Master Boat Builders Inc of Coden, Alabama Hayden Grace is the first of three similar vessels on order for Bay Houston and has an interesting design background that involved taking into account RAL's experience with its successful Z-Tech series.
RAL says the design team and client "worked seamlessly" addressing the operational challenges the vessel would face, including requirements for compact size and shallow draught capable of operation in more confined waterways than previous Z-Tech tugs, the design also including a specially styled deckhouse.
ABS-classed Hayden Grace is Tier 4 compliant via Caterpillar 3512E main engines, developing 4,426bhp in total powering Schottel SRP 430FP Z-drives and delivering 52.5tbp and speed 12.5kn. Two identical John Deere gensets are included in the machinery specification.
Williams Shipping offers a diverse range of maritime services based both ashore and afloat, including a range of tugs and workboats. The UK-based company recently welcomed arrival of Willsupport, a Meercat RT18 workboat. The twin-screw, 560hp vessel has a large working deck, two deck cranes and a 10t winch.
Willsupport was purchased in Scotland and is now based at its owner's Pembroke base, the company saying the vessel will be used for barge support, laying and/or repairing of buoys and cargo transfer along with civil engineering and renewable energy project support in the region. Dive and aquaculture support are also activities Williams Shipping states its new arrival will be "excellent for."
Vessel orders
Med Marine is a leading Turkish shipbuilder and tug operator and employs Eregli Shipyard, a facility covering some 180,000m2, 30,000m2 of which is indoors delivering tugs and workboats along with offshore vessels and tankers.
It has a yard completion list of around 200 various vessels and recently secured an order for a conventional tug for client Trabzon Port located in the Black Sea region of Turkey. The tug will be built to a SeaTech Solutions design with a length of 23.96m on a beam of 12.25m and draught 4.65m. Bollard pull will be 60 tonnes and speed 11kn, the vessel having accommodation for seven persons. Delivery is planned for January 2024.
Finally, returning to RAL and the wider RAmparts family of tugs and also in the new orders section, Jiangsu Zhenjiang Shipyard has secured an order for two RAL's RAmparts 3500 design vessels for China's Tianjin Port. RAL has worked with Tianjin Port for more than 10 years with delivery of nine tugs to five different designs, including the first tug with CSS notation of: 1 (Intelligent) Ship.
The prolific RAmparts series is one of the naval architect's most successful designs, with more than 400 in service worldwide. Variants range from 22m to 36m in length and offer between 60 and 80 tonnes bollard pull.
Each design is available in typical shiphandling configuration with a "modest" size of skeg or in an escort tug configuration with a much deeper skeg for enhanced indirect steering force capability.