This month's new vessel news is dominated by Sanmar Shipyards, who report five deliveries in a single week and a new addition to the expanding UK fleet of Carmet Tug Company.
Sanmar Shipyards is known for its serial production of standard design tugs from the catalogue of Canadian naval architect Robert Allan Ltd (RAL).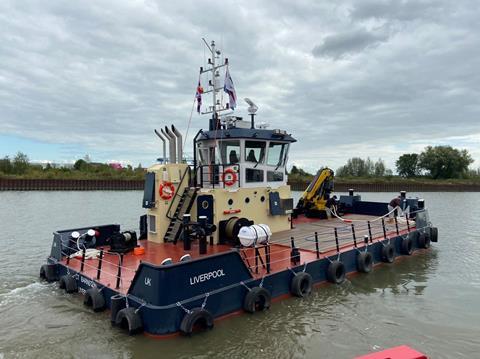 The Turkish shipyard is one of a handful of tug builders striving to drive down construction costs by offering standard designs, often built in series and for stock.
Increasingly tug operators, be they commercial concerns or ports meeting demands for towage services in-house, will have very specific requirements – and Sanmar offers modifications to the standard design to suit individual requirements. Building for stock also allows for early delivery once modifications are complete.
The five-in-a-week delivery for Sanmar involves four tugs and a mooring boat for Saam Towage in Panama; MedTug in Rotterdam; Sanmar's own fleet; Bulgarian operators BMF Tug Service; and Trans-Port-Lane, the last two first-time new customers for Sanmar.
Deliveries in detail
The delivery for Saam Towage concerns Saam Quibian, built, as is standard for Sanmar tugs, with a yard name – in this case Boğaçay XLIII. It is based on RAL's Sanmar-exclusive RAmparts 2400SX ASD design and offering a bollard pull of 70t will work in Panama Canal waters alongside one of its six sister vessels previously delivered by Sanmar to Saam Towage.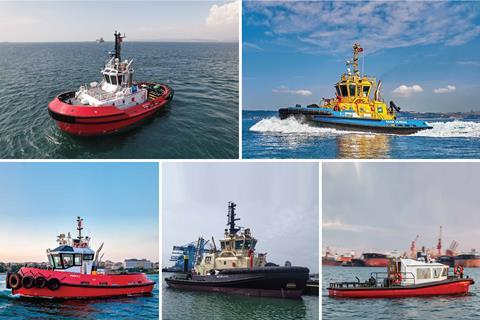 The second delivery has seen a 2020-built RAstar 2800 design tug, previously operated in Sanmar's own fleet in Turkey under the name Sanmar Terminal XXV, re-delivered to MedTug SA and renamed Med Bellatrix for service in Rotterdam, a port seeing an increasing number of tugs from MSC Shipping's own tug fleet MedTug. The 75-plus tbp vessel is the fifth Sanmar tug now delivered to MedTug SA.
As mentioned, Sanmar operates its own fleet, which now has a new tractor tug in Deliçay X operating at Izmit, the 75tbp vessel based on another Sanmar-exclusive RAL design the TRAktor-Z 2500SX.
Turning to Sanmar's two new Bulgarian customers, BMF Bulgaria has taken delivery of Aquila 2 (built as Gökçay II), a conventional twin-screw tug based on RAL's RApport 1600SX mooring boat design. Built for stock at Sanmar's Altinova shipyard, 16tbp Aquila 2 was designed to address the challenges of modern line-handling and smaller shiphandling tugs.
Sanmar's second new customer in Bulgaria, Trans-Port-Lane, has recently taken delivery of Vector, an 11m mooring boat from Sanmar's own fleet. It will work at Varna on the Black Sea.
Ruchan Civgin, Commercial Director Sanmar Shipyards, said: "Our shipyards operate to the highest environmental standards and we are at the forefront of the drive to a sustainable low-emission and emission-free towage industry. I am pleased that these latest deliveries confirm once again that we are able to serve the varying needs of both huge international operators and those providing towage and mooring services on a much smaller scale."
Outside Sanmar
Wirral UK-based Carmet Tug Company has featured recently in MJ's Tugs & Towing column, reporting on activities and additions to its fleet beyond what is arguably its best-known activity as sole towage contractor for the Manchester Ship Canal. This appointment dates back to 1989 and employs the instantly recognisable MSC-prefixed tugs (not to be confused with MedTug owner MSC Shipping, mentioned above).
A notable addition reported earlier was the CT Upton a 35tbp tug originally part of the Hongkong Salvage & Towage fleet, more recently operating as the Trueman for SMS Towage Ltd of Hessle. Carmet also operates a fleet of multipurpose workboats and has a new addition in the CT Barnston, an EasyWorker 2080 workboat built in The Netherlands by Groeneveldt Marine Construction BV.
The 20.8m long, 8m beam, 1.6m draught vessel is classed by Bureau Veritas and meets MCA Workboat Code Cat 2/60 requirements.
Two Volvo Penta D16 MH IMO 3 main engines developing 1,200bhp in total deliver 15tbp and speed 9kn via Twin Disc gearboxes and fixed-pitch propellers in nozzles with John Deere providing two gensets.
Deck equipment includes a Fassi F800 deck crane, an 18t SWL deck winch and 5t SWL tugger winch with accommodation comprising air-conditioned wheelhouse and galley/day room at deck level and a pair of two-person cabins below deck. An extensive navigation fit is provided including from Sailor and Furuno and a Transas 3000 ECDIS.