This month sees four tug deliveries and orders for a further six vessels of interest to report along with news of a new tug design from OSD-IMT.
Concarneau France-based Chantiers Piriou reports the upcoming delivery of the harbour tug Le Moros to Société Coopérative de Lamaneurs of Brest and Roscoff. Designed by Piriou and built at its Vietnam shipyard the 16.5m, 15tbp tug was adapted to the client's specific requirement including a new generation IMO Tier III compliant motor. A bow thruster is included in the vessel which has a crew of four. The client has managed mooring services in Brest and Roscoff for 50 and 10 years respectively, also carrying out coastal towing operations.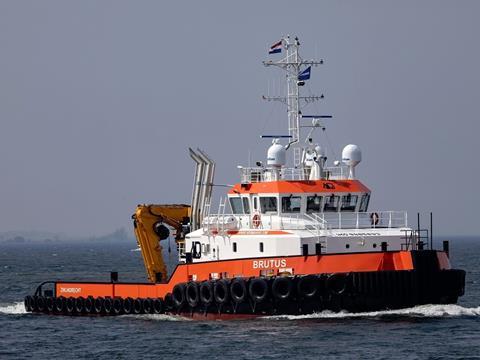 Damen describes its new diesel-electric hybrid, ultra-shallow draught Shoalbuster 3514SD as 'one of the largest and most sophisticated in its range' and following previous news in this column of the first in this new marque, the naming ceremony for Herman Sr's Brutus has taken place at Hardinxveld. With a length of 35m, beam 14m and 150m2 of deck space the vessel has a draught of just 2.45m (at 50% fuel capacity), partly down to the four main engine, four propeller arrangement delivering 3,876bkW in total and an impressive 60tbp. Accommodation on board Brutus comprises 12 cabins for six to seven crew plus 13 to 14 additional personnel and speaking of its connection with Damen, Herman Sr director Jack van Dodewaard said: "The Van Dodewaard family, as Herman Sr B.V., are still very happy with the good and long term cooperation with Damen Shipyards. For nearly 75 years, and across three generations, they have been our vessel supplier and we hope it will last for many more years."
Final deliveries to report again involves Damen with naming of the Multi Cat 1506 and Multi Cat 1908 Neptune and Progress for Antwerp-based Brabo Group on the back of a contract for the company's cleaning division to maintain a pollution-free environment in Antwerp. The hulls were already in stock which suited Brabo's requirement for a speedy delivery and role-specific modifications included: a vacuum installation, oil booms, pump room high pressure units, hot water units, discharge pump and a grabber in the vessels' cranes to collect larger elements. Neptune's wheelhouse was raised to create space for the pump room, the cleaning equipment installed modularly allowing removal should the vessels take on different functions. Two extra gensets are also installed for additional power requirements. Selective catalytic reduction technology combined with a particulate filter reduces the vessels' NOx reductions in line with Euro Stage V regulations.
Turning to orders of note, Grandweld Shipyard has agreed a contract with Specialities Construction of Kuwait for construction of four 27.5m, 50tbp tractor tugs. The escort-rated Robert Allan Ltd TRAktor 2700-Z vessels will have firefighting and oil recovery capabilities and operate in Shuwaikh Port for Kuwait Port Authority. Grandweld employs advanced shipbuilding technology including a highly digitised workflow and detailed 3D production and this order extends the Middle East-based shipyard's order book until the end of 2022.
Another order beyond Europe worth noting is US-based McAllister Towing's deal with East Boothbay, Maine-based Washburn & Doughty (W&D) for two 28.3m, 84tbp tugs with options for a further two. They will be the third and fourth tugs built by W&D for McAllister and includes a Caterpillar/Schottel main engine/thruster combination with Markey towing winches forward and aft and delivery scheduled for November 2022. Family-owned McAlister dates to 1864 and operates a fleet of over 60 tugs, barges, launches and ferries on the US East Coast from Portland, ME to San Juan PR.
Finally, following news in April 2020 of the Cyclotrac 3690 a new tractor tug marque from OSD-IMT, the Netherlands-based ship design company has unveiled another Voith propelled tractor tug design, designated the Cyclostern 2370. OSD-IMT state: "This strong tug is able to do the work of a larger vessel but for the price of a small one and it can squeeze into the tight corners of ports and locks." The 23m, 70tbp Tier III compliant tug will be powered by two 2,525kW main engines powering Voith type 32 cycloidal thrusters with a 200t brake load double drum towing winch aft along with a 75t towing hook and accommodation for four persons.