Zeetug has released an operational status report on Gisaş Power, the world's first zero-emission all-electric tug along with opening of the 'Zeetug Factory' and keel-laying ceremony for a new vessel.
An all-electric vessel is one solution that can suit certain operating profiles and it was back in January 2018 that the keel for Istanbul-based Navtek's Zeetug30 Gisaş Power was laid with delivery following just two years later for this revolutionary step forward in sustainable towing operations. The vessel has been in operation for nearly two years now, allowing time for reflection on its record and performance with Zeetug sharing its experience. For those following current trends the released data will be viewed with interest.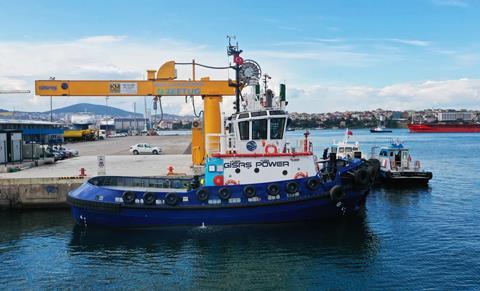 Gisaş Power has spent 583 days in operation, 552 of which were actual operational days involving 1,532 sorties with a total run time of 1,930 hours and total charging of 380,000kWh. The vessel spent 74.5 hours off service for maintenance and/or repair.
The efficiency data includes a figure of 95% operational day rate and 3.8% non-working/working hours with an average of 2.8 towing acts per day. Stoppages were 18 (total 74.5 hours) including one hour for annual class survey with no works required. The Li-Lo batteries' state of health was 99.5% and total fuel (energy) OPEX savings, Marine Diesel Oil (MDO) vs electric were 50.27% with total maintenance and repair OPEX savings of 21% of MDO. Emission figures include 317.7t (210.1t pa) of CO2 and 0.83t (0.55t pa) of NOx saved, MDO vs electric.
Gisaş Power is a Zeetug30 variant of the twin thruster ASD-configured tugs produced by Navtek whose catalogue of emission-free, electric tugs illustrates eight versions with tbp/LOA figures respectively of: 30t/18.7m, 45t/25.5m, 55t/27m, 60t/27.9m, 65t/28.7m, 70t/29.6m, 75t/30.5m and 80t/31.4m. Additional specifications of Gisaş Power include a beam of 6.7m, depth 4.65m, draught 3.5m, total motor power 1,900kW and speed 11.3kn.
Separately, Zeetug has announced that production has started on its second phase with the keel-laying ceremony held for a new Zeetug30 and opening of the new Navtek&Gisaş Boatyard, described as 'The Zeetug Factory'.