The Turkish Directorate General of Coastal Safety has taken delivery of the second of its latest emergency response, escort and assistance tugs from Sanmar Shipyards.
Kurtarma 16 falls into the Emergency Towing Vessel (ETV) category and here the Robert Allan (RAL) Sanmar exclusive RAstar 2900SX marque has been chosen and follows the similar Kurtarma 15. It is 'horses for courses' for ETV designs based on specific geographical and other considerations and with provision of 90+tbp and Sanmar's most powerful tug yet by bollard pull, enhanced for escort duties it is clear the Turkish government has an impressive addition to the expanding fleet of tugs intended to enhance maritime safety in its waters.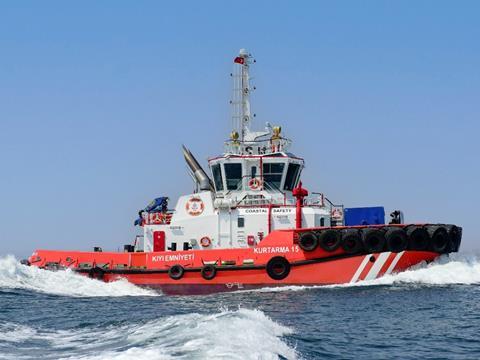 Kurtarma 16 delivers its 90+tbp via MTU 16V 4000 M73L main engines, each developing 2,700kW at 1,850rpm driving Schottel azimuth thrusters. The RAstar escort/offshore terminal tug designation is reserved for a distinctive class of ASD tug with the unique sponsoned hull form developed by RAL which provides 'significantly enhanced escort towing performance' from the effects of the sponsons as well as from the prominent foil-shaped escort skeg forward. Basic dimensions include a LOA of 29.4m and moulded breadth 13.3m with a draught of 4.37m and deck equipment includes a Palfinger 18500MC knuckleboom crane.
Tugs of the RAstar class can be configured for specific manning requirements, shiphandling tugs of this size typically operate with a crew of three. Previous similar tugs from Sanmar have included accommodation for up to eight crew but for Kurtarma 16 this has been increased to 10 comprising two single and two four-person MLC-compliant cabins.
The history of rescue stations in the Turkish Strait dates to 1869 but it was in 1926 that a British company operated a salvage service in the region for Turkey's administration. Now under Turkish government control the series of Kurtarma prefixed tugs started in 2000 and closely related to this latest delivery are Kurtarma 13 and 14 delivered by Turkey's Uzmar Shipyard, also in 2021, both are slightly larger RAstar 3200 class vessels.
The Turkish Directorate General of Coastal Safety clearly has a positive approach to maintaining safety within its waters with a diverse fleet of around 40 vessels at its disposal from tugs such as those above to patrol boats, flat top barges and floating cranes and not including SAR-related services.