Mavi Deniz is introducing a new concept for OSRVs (Oil spill Recovery Vessels), an oil recovery system capacity of 100 m3/h which is approved by BV Class Notation.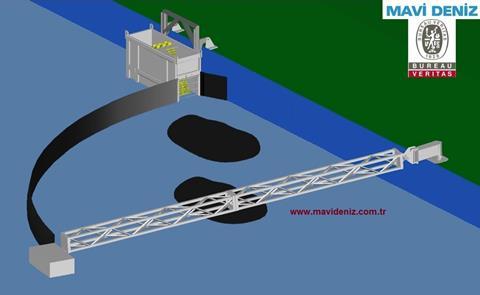 Mavi Deniz A.S, has built more than 500 advancing oil recovery systems for customers covering different types of vessels, refineries, shipyards and ports authorities. The unique systems have been tailor made to fit each vessel and include brush conveyor oil skimmers, side collecting arms, inflatable oil booms, oil transfer pumps and hydraulic power packs.
The company also continues to win orders for its established systems and signed a $ 9.0m deal last summer with the Ports and Shipping Organisation of Iraq for the manufacture and supply of three 30m oil recovery vessels with a side arm recovery capacity totalling 200m3/h and with an oil collection speed of 4 knots. "Its an exciting project for Mavi Deniz against strong international competition in the World market" said Emre Altuntop, sales director.
The vessels will feature the proven Mavi Deniz brush side collector systems, submersible screw pumps, portable diesel driven dispersant systems, 1.500 m oil containment booms with hydraulic boom reels, portable mini ash incinerator, oily water separator systems and fire fighting canon systems.
Power will be provided by a twin Volvo Penta marine diesels with fixed pitch propellers. Speed is 10 knots. Mavi Deniz Oil Recovery Vessels are well proven with BV Class certified around the world and able to work effectively in difficult environments from tropical to arctic.
Further information: www.mavideniz.com.tr
By Jake Frith