Construction of a 165m wide turning basin is under way on the Hunte River upstream from Bremerhaven to strengthen and speed up ship access and handling in the busy inland German port of Oldenburg.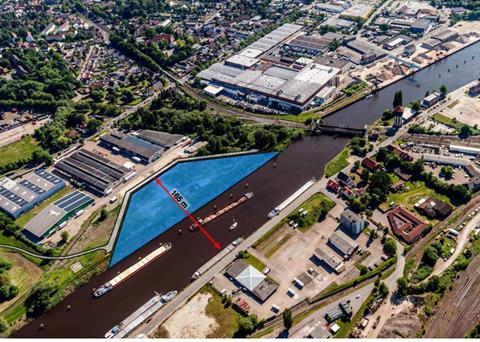 The work is lasting about three years with the new turning basin available to ships in 2019. It is costing €12 million with Oldenburg putting up a third and the federal waterways and shipping authority (WSV) the rest.
The importance of the project in Oldenburg - some 50 kms up the Weser and Hunte Rivers from Germany's second largest seaport complex - was demonstrated in November when work began.
Both Government Transport Ministry State Secretary Enak Ferlemann and the President of the WSV Hans Heinrich Witte attended.
Oldenburg is one of Lower Saxony's busiest inland ports and handled more than a million tons of cargo in 2015. It coped with 54 sea-going ships and 891 inland vessels in that year, carrying mainly agricultural products and construction materials.
Two-way traffic on the tidal Hunte between Elsfleth, where it joins the Weser, and Oldenburg is restricted to sea-going vessels of 86m length drawing 4.2m and inland ships up to 100m drawing 3.5m. Many ships can sail no further than Oldenburg and must undertake reverse manoeuvres for the return journey, which in some cases involves backing up 800m down the river.
The resultant dangers to shipping are among the reasons which led to the decision to construct the turning basin. With it sea ships of 110m and inland ships of 135m will be able to call in Oldenburg.
The WSV's Hans Heinrich Witte said it "will make shipping on the Hunte route even more attractive and safer. Because of the generous dimensions of the basin, more modern sea-going and inland ships will be allowed to use the tidal Hunte", he added. He also underscored the significance of the project for regional inland shipping on the Rhine and Ems, as well as the Weser.
Jürgen Grabau at the WSV told Maritime Journal that as of late January about 10% of the required earth removal had taken place, along with tests on newly installed anchor pilings. The Transport Ministry said the project involved the removal of some 120,000 m3 of earth and the installation of some 1,000 tons of sheet piling and 180 anchor pilings.
Thieling in Stadland, which is handling construction for around €7.4 million, said further project demands include searches of about 54,000m2 of water area and about 13,300m2 of land areas for unexploded ordnance from WW2.
Thieling also said 300m of sheet pile wallings were being installed. It said about 40,000m3 of dry earth was being removed and some 100,000 m3 of earth dredged from the river.
By Tom Todd