A major port modernisation project in the Northwest of the UK is expected to be completed at the start of 2020.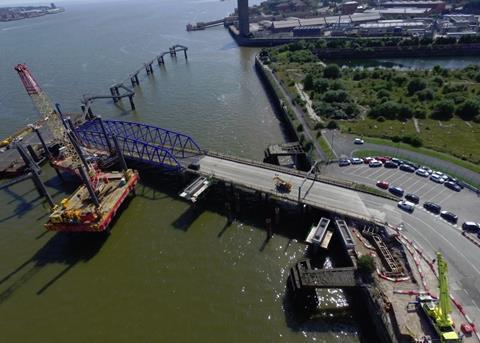 Carried out by Peel Ports and Stena Line at Twelve Quays terminal in Birkenhead, the £17m port modernisation project will see the dock expand to service next-generation RoRo (Roll-on/Roll-off) ferry vessels by investing in best-in-class facilities to reduce turnaround times, increase route capacity and improve health and safety by implementing one way traffic.
The newly developed terminal is expected to be fully operational by January 2020, ready to welcome Stena Line's new fleet of E-Flexer ships which will utilise the Belfast-Liverpool route from spring 2020 following a multimillion pound investment into the region as part of a 25 year commitment.
David Huck, Managing Director – Group Ports from Peel Ports said: "The past two years have seen heavy investment in the infrastructure at Twelve Quays to offer enhanced berthing facilities for larger, more modern vessels, helping reduce turnaround times and open up opportunities to grow the region's import and export offering by expanding capacity by 20%.
"It's also allowed us to extend our long-term partnership with Stena Line as it takes the next steps in its major fleet investment programme, with freight and travel customers able to take advantage of faster and easier loading and unloading."
Stena's new E-Flexer ships are larger than today's standard RoPax vessels and will provide freight capacity of 3,100 lane meters and the space to carry 120 cars and 1,000 passengers and crew. They are also highly fuel efficient to help reduce emissions, feeding in to Peel Ports' goal of providing sustainable ports for the future.
Work carried out by Peel Ports includes a new multi-level berth to accommodate double-deck, simultaneous vehicle access to and from vessels as well as bigger berthing facilities for importers and exporters to take advantage of the port's connectivity.
Peel Ports Group is the UK's second largest port group, owning and operating six of the UK's most important ports (Liverpool, Heysham, Manchester Ship Canal, Medway (Sheerness / Chatham), Clydeport and Great Yarmouth). It also operates a container terminal in Dublin and owns BG Freight Line, which provides short sea container services between the UK, Ireland and mainland Europe and feeder services between the UK and Ireland.
By Jake Frith