Northern European service specialist Ems Maritime Offshore (EMO) has taken two further wind farm vessels into its growing fleet – one a catamaran newbuilding and the other a SWATH CTV it has operated since it was built for other interests six years ago.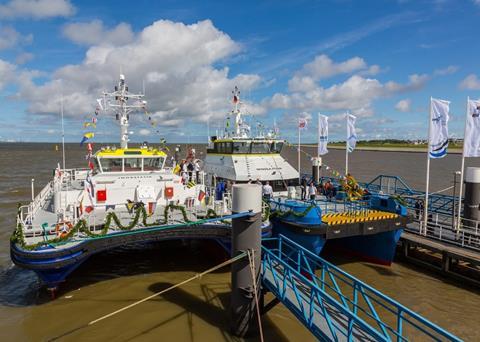 Introduced together at a newly renovated pier at EMO operations hub Emden Knock in north Germany were the new 27.5loa catamaran Windea Four and the now renamed 26.4 loa SWATH CTV Windea Five – the former Natalia Becker.
The 8.9m wide aluminium, Type Strat Cat catamaran Windea Four was built in Singapore by Australia's Strategic Marine, draws a maximum 1.6m and is of 30dwt. It loads two 10' containers or one 20' unit aft for a maximum load of 30 tons and boasts an 81m2 forward deck area and one of 31m2 aft with a loading capacity of 2 t/m2 as well as a Heila HLM5 2S crane on deck.
Windea Four, which carries a crew of four and 29 passengers, has a propulsion system comprising four CAT C18 engines of 651 kW @2200 rpm and a water jet plant of four Hamilton HM 521 units. EMO says this particular configuration permits operation in shallow waters and can accelerate the cat to 32 knots although maximum speed is officially put at 28 knots and service speed at 26 knots. The ship's stabiliser is a Humphree Interceptor and the configuration also includes two Cummins Onan 27 ekW generators.
Windea Four's 26.4m long and 13m wide SWATH windpark tender companion Windea Five is something of a celebrity in the offshore wind farm sector. When it was completed in 2010 for the Bard Group as Natalia Becker by Abeking and Rasmussen it was billed as the world's first SWATH tender specifically designed for offshore wind park maintenance, supply and personnel transfer.
Bard Service CEO Jörg Fangmann said at the time that its introduction meant service engineers and foundations could be transferred and board even in seas with wave heights of up to 2.50m. "We will retain deployment capability even in bad weather, guaranteeing the high availability of our offshore wind power station", he added. It has been managed and operated by EMO since it was built and EMO MD Knut Gerdes it had "always been part of the EMO fleet as a CTV and will in future be integrated as Windea Five".
Drawing 2.7m Windea Five is of 222GT and carries two 10' containers and a maximum deck load of 1.5t/m3. It has two high-speed MTU 2000 M 72 main engines each of 900kW providing 18 knots over Reintjes reduction gears and a fixed pitch propeller plant. The SWATH carries a crew of two or three and a dozen technicians.
By Tom Todd