Suzuki outboards have been a popular choice for powering workboats, and now this Japanese company has unveiled two new additions to its range in popular sizes.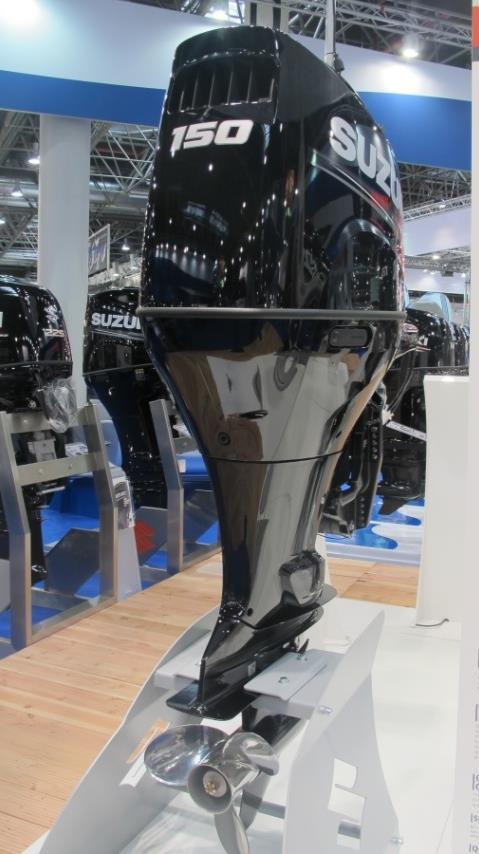 The two new engines, the 150hp DF 150 AP and the 175hp DF 175 HP engines are both based on the same engine block and these are high technology engines are designed to offer good fuel economy and reliable operation in rugged applications. The 150 hp unit operates at 5500 rpm and the 175 hp at 6100 rpm.
Both of these new outboards are based on a 2.86 litre in-line four cylinder block that is fitted with double overhead camshafts and variable valve timing. The engines operate on a high 10:1 compression ratio which is claimed to provide an increase in the maximum low end torque and which generates impressive acceleration. Other features of these new outboards are the semi-direct air intake system which suppresses any increase in the temperature of the air that is sent to the combustion chamber which helps to increase the combustion efficiency. The combustion efficiency is further enhanced by means of an oxygen sensor and a knock sensor which both help to stabilise the engine rpm.
The 'brain' of these new outboards is a 32-bit control unit which, through multiple sensors, analyses a series of parameters connected to the operation of the engine in order to optimise the working of the engine. This process establishes the quantity of petrol being allocated to the multi-point fuel injection system to make it compatible to the amount of air in the cylinders.
This lean burn system has been pioneered by Suzuki in previous outboard engines and it is claimed to produce significant improvements in the fuel economy. The same system controls the pulse, detonation and oxygen sensors, as well as sensing any water in the fuel and it carries out the continuous monitoring of all the engine functions in real time which is claimed to enhance the reliability of the engines.
Among other innovations on these new Suzuki outboards there is the Keyless Start system which includes an electronic key and an immobilizer function. This allows the engine to be started just by pushing the start button whenever the electronic key is within one meter of the helm console. The steering of the outboard is now based on Precision Control, which is a computer-based drive-by-wire system that replaces the mechanical control cables found in conventional control systems with electronic wiring that eliminates any source of friction and resistance.
For twin engine installations Suzuki has introduced its Selective Rotation system which is a switch that allows the rotation of the propeller shaft to be reversed to allow setup as a counter rotating pair of engines. The weight of the new engines is 236 kg.
Suzuki GB PLC will be launching these new engines to the commercial sector at Seawork International 2017 on quayside stand number Q3.
By Dag Pike