Eastern Shipbuilding Group has reported the delivery and launching of two Z-Tech 2400 Class terminal and escort tugs to owners in the US.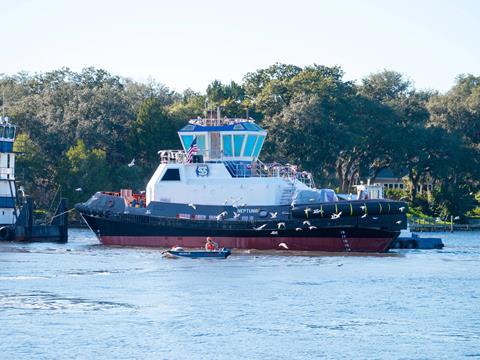 Designed in Canada and built and owned mainly by concerns outside Europe, the Z-Tech series of tugs, developed by Robert Allan Ltd seldom feature in Tugs & Towing. This recent item of news from Eastern Shipbuilding does however allow the spotlight to fall on what is now popular terminal and escort tug. At the time of writing 72 Z-Techs were either delivered or in build globally.
One customer for the Z-Tech range of tugs worthy of mention is the Panama Canal Authority who between 2006 and 2011 took delivery of twenty one Z-Techs from Cheoy Lee Shipyards. The order was made up of two tranches of eight and thirteen vessels.
The delivery and launching of this latest pair took place within two days of each other and the first concerns delivery of hull number 237 which received the name Neptune, becoming the second in a series of four identical Z-Tech 2400 tugs for Suderman & Young Towing Company following the first in the series Triton delivered in 2015. The second news item is the launching of the third in a series of four of the same class, to be named David B (hull number 239) for Bay-Houston Towing Co. G&H Towing Co. is the onsite owner's representative and agent during engineering, construction and delivery for both owners and will operate the tugs on behalf of them following delivery.
The launch ceremony for David B, held at Eastern's Nelson Street facility was hosted by Patrick D'Isernia, project manager at Eastern. Mr D'Isernia praised Eastern Shipbuilding Group's employees for their hard work and G&H Towing for its commitment to the project. Deacon Earl Mirus of St John's Catholic Church of Panama City Florida blessed the vessel and Annalise Reeves, daughter of Eastern Shipbuilding Group project manager, England Reeves had the honour of christening David B. Also in attendance was Mike Nigro, Vice President of Engineering for G&H Towing.
The specifications for both vessels are reported as the same and include dimensions of 80ft length and 38ft beam. Main engines are two Caterpillar 3516C (B rating) Tier 3 diesels driving Schottel model SRP 1215FP Z-drives in nozzles. Auxiliary machinery includes main generators in the form of two John Deere 4045AFM85 Tier 3, 99kW 480V at 1,800rpm marine diesel gensets and deck machinery includes a Markey Machinery DEPCF-48S model Fairleader 50hp electric hawser winch with a 36" wide drum; mid-drum brake holding capacity is 300,000lbs. Both Neptune and David B conform to ABS rules and carry the notation +A1, Towing Vessel, AMS and Escort Service ABS Loadline (SoC), Statement of Compliance and they will fly the USA flag.
By Peter Barker