Belgium''s Jan De Nul has added two newbuild dredgers to it international fleet with deliveries of the cutter suction dredger Willem van Rubroeck and the trailing suction hopper dredger Galileo Galilei.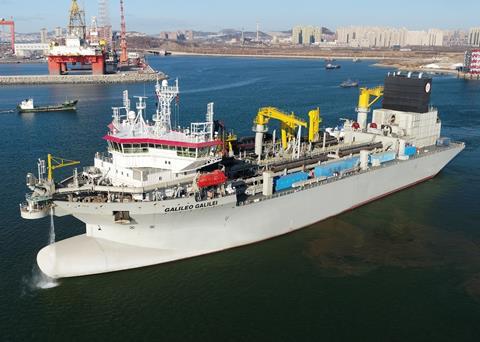 The 151.3m LOA Willem van Rubroeck was built at the Remontowa shipyard in Poland and proceeded to the Port of Ghent, where it moored alongside Jan De Nul's logistics hub at Zelzate in preparation for its first assignment.
The most powerful and largest cutter suction dredger in Jan De Nul's fleet, the Willem van Rubroeck boasts a massive total installed power of 40,975kW which will enable dredging in very hard rocky soil. Three dredge pumps of 8,500kW each, two inboard and one submerged, and a cutter capacity of 8,500kW provide an operational dredging depth of up to 45m through a 1,100mm diameter suction pipe. The vessel's massive size allows it to cope with more difficult conditions, such as higher waves and more challenging weather. Willem van Rubroeck can sail at a speed of 12 knots and can accommodate 67 people.
The 18,000m3 cpacity trailing suction hopper dredger Galileo Galilei has been delivered to Jan De Nul following successful sea trials. Built by the Cosco shipyard in China, the !66.55m LOA vessel will dredge to depths of 86m through a single 1,200mm diameter suction pipe. A special feature of the Galileo Galilei, unique to Jan De Nul's hopper fleet, is two separated hoppers onboard. This allows dredged material to be spread evenly over both hoppers for optimal control of the load and the draught. The vessel will sail at 15.5 knots and has accommodation for 32 people.
By Larz Bourne