Gael Force Engineering's first floating concrete breakwater has recently been launched and is considered to be an enormous achievement for the UK-based pontoon manufacturer.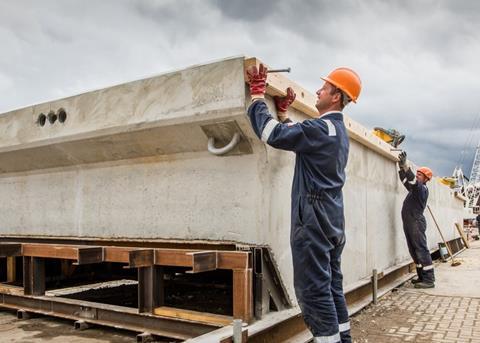 It's a logical step, combining over 20 years of experience in marina design, manufacture and installation with an equally renowned proficiency in complex concrete fabrication.
The two SeaHaven breakwaters, both measuring 20 x 4 metres and weighing in at 62T each, have been manufactured for an installation at Tarbert, Scotland, which will also consist of 100 metres of Gael Force's own SeaHaven HD pontoons. These specific wave attenuators have been designed to endure all sea conditions associated with the installation site and offer a generous design life of 30 years. A heavy duty chain moored system will maintain the breakwater's position, minimising excursion, maximising attenuation and ensuring stability on site.
Gael Force Engineering's Production Director, Stephen Offord, expressed his delight by saying, "We are extremely pleased with the results of our first SeaHaven Breakwater units. This new product adds to our comprehensive pontoon and marina equipment range, and takes our offering to a whole new level. It puts us in a unique position in the UK of being able to offer a complete service from design through to installation, from moorings through to shore side access and everything in between. This full offering being achieved 'in-house' using our own highly skilled design, manufacture and management teams. As the country's only producer of concrete breakwaters this also brings advantages in terms of transport costs and timeframes for UK based sites in comparison to imported solutions."
Gael Force's UK-based engineering facility hopes to prove itself as a best-in-class centre for the development of bespoke breakwaters for future clients.
By Jake Frith