Dr Parry Oei, Chief Hydrographer and Director of Port Services of the Port Authority of Singapore (MPA) who is also Chairman of the International Hydrographic Organization's Inter-Regional Coordination Committee, is this year's recipient of the UK Hydrographic Office's annual Alexander Dalrymple Award for outstanding contributions to world hydrography.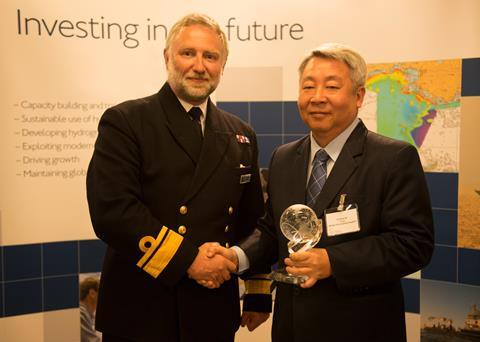 Presenting the Award during a reception at the International Maritime Organization's headquarters in London, John Humphrey, Chief Executive of the UKHO, said it was in recognition of Dr Oei's tireless contributions to promotion and development of electronic navigational charts throughout Asia which also included leadership in establishing the first Singapore versions. Other notable undertakings have been active involvement with the IHO East Asia Hydrographic Commission's capacity building initiatives in addition to the IMO tripartite Marine Electronic Highway Working Group for the safe passage of traffic in the Straits of Malacca and Singapore.
Dedicated to the memory of Alexander Dalrymple, founder in 1795 of what is now the UKHO, the prestigious Award was instituted in 2006. Previous recipients include leading hydrographic figures from Chile, France, Germany, Japan, Netherlands, South Africa, UK and the US.
By David Goodfellow