Willard Marine of California, USA, a 56-year-old builder of composite and aluminium boats, has received an order to supply the Ukrainian navy with four aluminium patrol boats, with an option for a fifth.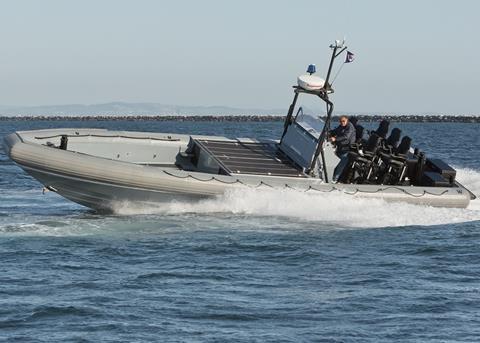 Under the contract, issued by the U.S. Navy Foreign Military Sales (FMS) office, Willard Marine is supplying two Sea Force 11-metre and two Sea Force 7-metre aluminium patrol boats, each with an open cockpit configuration. An additional 7-metre patrol boat will be supplied upon request.
The 11-metre boats are powered by Cummins QSB 5.9 380 HP engines and Hamilton model HJ292 water jets. The 7-metre boats are each equipped with a Cummins QSB 5.9 230 HP engine and a Mercruiser sterndrive. Willard Marine will also provide comprehensive onsite crew training in the design, operation, maintenance and repair of the boats.
The high-speed aluminum patrol boats will be used by the Ukrainian navy for Visit, Board, Search and Seizure (VBSS) operations and other naval operations as required.
"This repeat order from the Ukrainian navy reaffirms Willard Marine's position as a leading manufacturer of aluminium-hull RIBs for military applications," said Ulrich Gottschling, president of Willard Marine. "This is our third FMS order for the Ukrainian navy, and we have developed an excellent working relationship with them over the last few years."
Headquartered in Anaheim, Calif., Willard Marine was founded in 1957, and describes itself as a leader in the design and construction of high-quality fibreglass/composite and aluminium boats for military, homeland security, commercial, law enforcement, SOLAS and other market segments.
By Jake Frith