Boatbuilder Ulstein Verft and Norwegian ferry operator Color Line have signed a contract to construct what they call the world's largest plug-in hybrid vessel.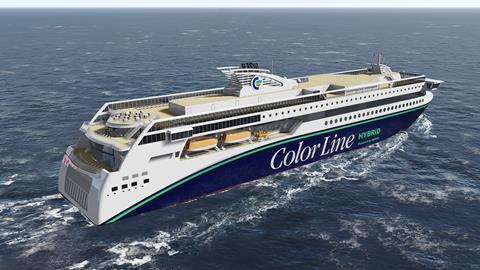 Ulstein Verft will complete the environmentally-friendly vessel in time for it to go into operation between Sandefjord and Strømstad in Norway from summer 2019.
"It is very gratifying that the Norwegian shipbuilding industry has proven its competitiveness internationally and that Color Line contributes to the further development of the Norwegian maritime industry," said CEO Trond Kleivdal at Color Line.
Gunvor Ulstein, CEO, Ulstein Group added: "We are very pleased that Color Line decided to proceed from a Letter of Intent to a firm contract on the construction of this hybrid vessel. This is an important milestone for us."
The vessel will have a heavy focus on reducing noise and emissions. As a plug-in hybrid, it will have batteries which can be recharged via a power cable with green electricity from shore facilities or, as a secondary alternative, recharged on board by the ship's generators.
Color Line's new vessel will have full battery power into and out of the fjord to Sandefjord inner harbour. With the installation of shore power at Sandefjord all Norwegian ports on Color Line's network will have shore power facilities.
The 160m vessel, with the working title Color Hybrid will have almost double capacity as the current vessel which services the route, M/S Bohus, which is scheduled to be phased out when the new ferry is put into operation.
This new vessel will be built according to Norwegian flag requirements and registered in the Norwegian Ordinary Ship Register (NOR).
By Anne-Marie Causer