A new ferry billed as the first of its kind in Europe to be powered by a new series of high-speed LNG pure-gas engines is starting trials in southern Germany this autumn prior to winter service, writes Tom Todd.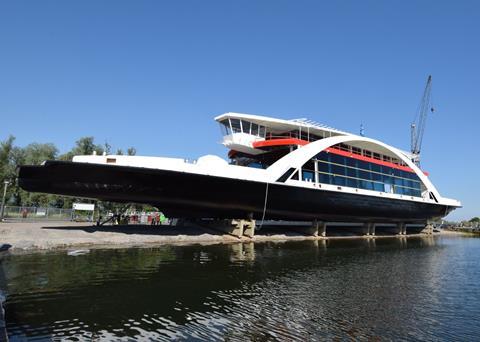 The 82.37m long and 13.4m wide passenger/car ferry, as yet unnamed but tagged FS14, is being fitted out and its new MTU engines installed in the ferry port of Constanz-Staad on Lake Constance.
It is joining the fleet of the Stadtwerke Konstanz - a public utility company operating six ferries on the lake, which borders Germany, Switzerland and Austria. The ships carry more than four million passengers and about 1.4 million vehicles a year.
Christopher Pape at Stadtwerke Constanz told Maritime Journal that if everything goes according to plan the first FS14 trials will take place this autumn prior to the new ship entering service during the coming winter. The newbuild is costing €18.7 million, more than €1 million of which is being funded by the German Government, and will carry some 700 passengers and around 60 vehicles between Konstanz and Meersburg.
It has been a long and unusually complex journey so far for the unique ferry. The fitting-out in Staad has followed a tow from Fussach at the Austrian end of the lake, where the ship was assembled after the road delivery of sections from Hamburg shipbuilder Pella Sietas.
FS14 will have the same external dimensions and look almost identical to the Stadtwerke Konstanz ferry Lodi except for an eight metre high ventilation mast. Lodi is propelled by 8-cylinder MTU Series 4000 diesels. In fact, all Stadtwerke ships have engines from MTU, which is based in Friedrichshafen on the lake and is part of Rolls Royce Power Systems.
MTU says the new ferry will be the first inland passenger ship in Europe to get two high-speed MTU 8-cylinder Series 4000 single fuel LNG gas engines each of 746kW and driving Voith Schneider propellers.
The engines are based on the proven 4000 Series for workboats and MTU said that the Stadtwerke Konstanz will be the first customer to be supplied with the new engines under a co-operation agreement with Rolls Royce. That will cover two years of ship trials under continuous monitoring.