A new system for the launching and recovery of unmanned craft will be presented by Henriksen Hooks at Seawork International.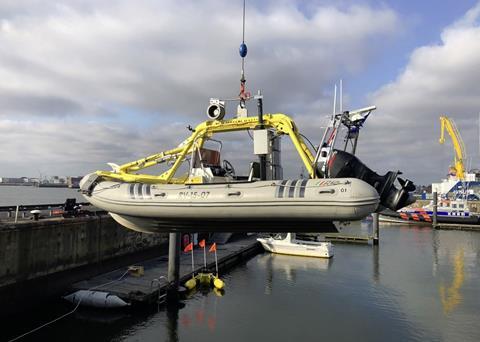 This new development is aimed at all unmanned vessel operators including research, survey and military organisations.
Henriksen has been able to develop a solution to the difficult challenge of recovering unmanned and autonomous craft. It overcomes the problems of connecting with and releasing such craft in difficult sea conditions and can be expected to appeal to operators who it will enable to work in a wider range of weather conditions and with fewer personnel.
Developed in Norway, the new Henriksen system can be used to launch and recover craft ranging from large, remotely controlled RIBs to autonomous Unmanned Surface Vehicles (USVs). This has been a challenge that users have struggled with for many years and with varying degrees of success. The new system also provides the additional benefit of being usable with existing davits and has no need for special tools during launching or recovery,
Because the importance of safety can sometimes be overlooked, the quality and reliability of Henriksen products will also benefit the personnel working closely with the unmanned vessels while adding to the security of what may be expensive and valuable experimental craft.
Although exhibition space restricts the use of a full-size system at Seawork, visitors to the Henriksen stand will be able to see a working model of the innovative new system and will be able to judge its suitability for their own needs.
Visit Henriksen Hooks at Seawork International 2019 on stand PY145