The UK's Automated Ships Ltd (an M Subs Ltd subsidiary) and Norway's Kongsberg Maritime have signed a Memorandum of Understanding to build the "world's first full-size unmanned and fully-automated offshore vessel."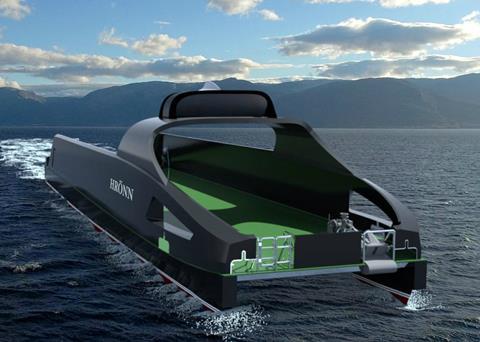 In January 2017, Automated Ships Ltd will contract the Hrönn, which will be designed and built in Norway in cooperation with Kongsberg.
Kongsberg's role in the project is to deliver all major marine equipment necessary for the design, construction and operation of Hrönn. This includes all systems for dynamic positioning and navigation, satellite and position reference, marine automation and communication.
It will also supply all vessel control systems including K-Pos dynamic positioning, K-Chief automation and K-Bridge ECDIS, which will be replicated at an onshore control centre, allowing full remote operations of the vessel.
"We are proud and excited to be part of the first project to actually realise the potential of unmanned vessels by supporting the construction of the first full size, fully operational example," added Stene Førsund, EVP global sales & marketing, Kongsberg Maritime. "The Hrönn is an incredible ship and a great example of Kongsberg's commitment to developing autonomous and unmanned vessels."
Hrönn is a light-duty, offshore utility ship servicing the offshore energy, scientific/hydrographic and offshore fish-farming industries. Its intended uses include but are not limited to survey, ROV and AUV, launch & recovery, light intermodal cargo delivery and delivery to offshore installations.
The vessel can also be utilised as a standby vessel, able to provide firefighting support to an offshore platform working in cooperation with manned vessels.
Hrönn will initially operate and function primarily as a remotely piloted ship, in Man-in-the-Loop Control mode, but will transition to fully automated, and ultimately autonomous operations as the control algorithms are developed concurrently during remotely piloted operations.
The vessel is expected to be built by Fjellstrand AS, a Norwegian shipyard with a long history of building state-of-the-art aluminium fast ferries including the world's first battery driven car ferry, Ampere.
Sea trials will take place in Norway's newly designated automated vessel test bed in the Trondheim fjord and will be conducted under the auspices of DNV GL and the Norwegian Maritime Authority (NMA).
Kongsberg is involved in several major projects in this field including AUTOSEA, which focuses on integrated sensor technology and fusion, and automated collision avoidance systems. It's also a key stakeholder in the world's first official autonomous vehicles test bed, which opened this September in the Trondheimsfjord.
By Anne-Marie Causer